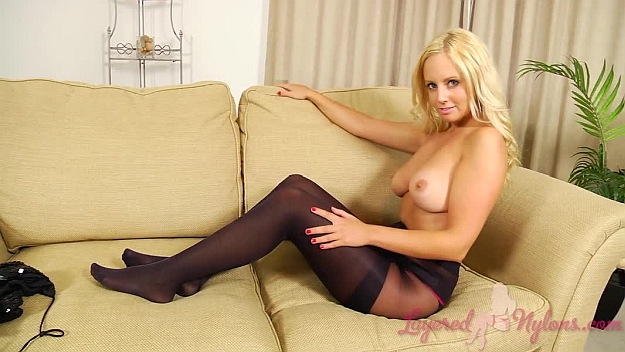 'Hi, it's Rachel H here, shooting for Layered-Nylons. I hope you like my striptease,' says Rachel as she poses in her sequinned top, black satin pants and high-heeled boots.
Beautiful Rachel smiles as she runs her hand over her buttocks and the bumps of her suspenders, which are clearly defined through the tight material of her satin pants.
She sits on the sofa and caresses her legs, then reaches down to unbuckle her boots and take them off to show her feet in black nylon hosiery.
Rachel stands and strips the pants down to her thighs and runs her hand over her shapely ass, sheathed in black nylon. Her buttocks look fabulous, bound by the taut straps of her suspenders attached to the shiny tops of her black stockings.
Rachel sits and fully removes her pants, then lifts her sequinned top to strip it over her head and uncover her beautiful all natural breasts. Giving us a sexy smile, she pushes out her chest and her cups the soft flesh of her boobs in her hands.
Standing in her stockinged feet, Rachel pushes her hand down the inside of her hose and feels the flesh of her thighs under the stretchy layer of nylon hose.