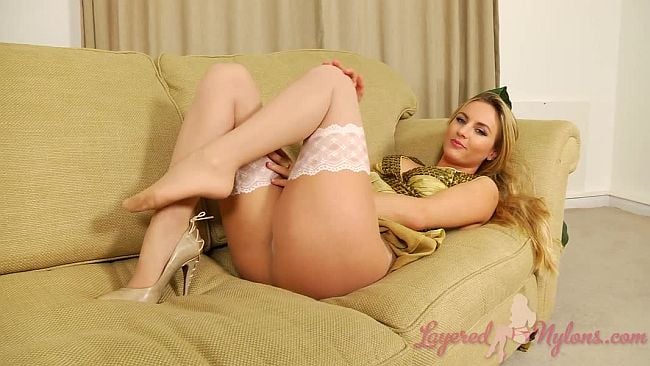 'Hi guys, I'm Natasha Anastasia and I hope you enjoy my sexy video today,' says our attractive and charming blonde as she poses in her silky dress and blows us a kiss.
Natasha Anastasia's long blond hair flows over her shoulders and down her back as she turns and lifts up the folds of her beautiful, golden-green silk dress. Gently swaying her ass, she runs her hands over the curve of her shapely buttocks in tan nylon pantyhose and around the lace tops of her white stockings.
Reclining on the sofa, she sweeps her hands over the surface of her nylons and caresses her extended legs in their designer heels. Slipping off one shoe, she lets it dangle and lightly traces her fingers around the contours of her nylon clad foot and wiggles her toes inside their cocoon of silky, nylon hosiery.
Natasha seductively strips the dress from her shoulders and lowers the top half to reveal her gorgeous all natural breasts. Standing, she turns and bends slightly as the dress slides over her ass and down her legs to reveal the 'whale tail' of her pantie thong above the cleft of her bum cheeks.
Natasha moves sensually as she lightly peddles her stockinged feet on the floor, whilst stretching the sheer nylon pantyhose up her front and fondling her beautiful naked breasts.