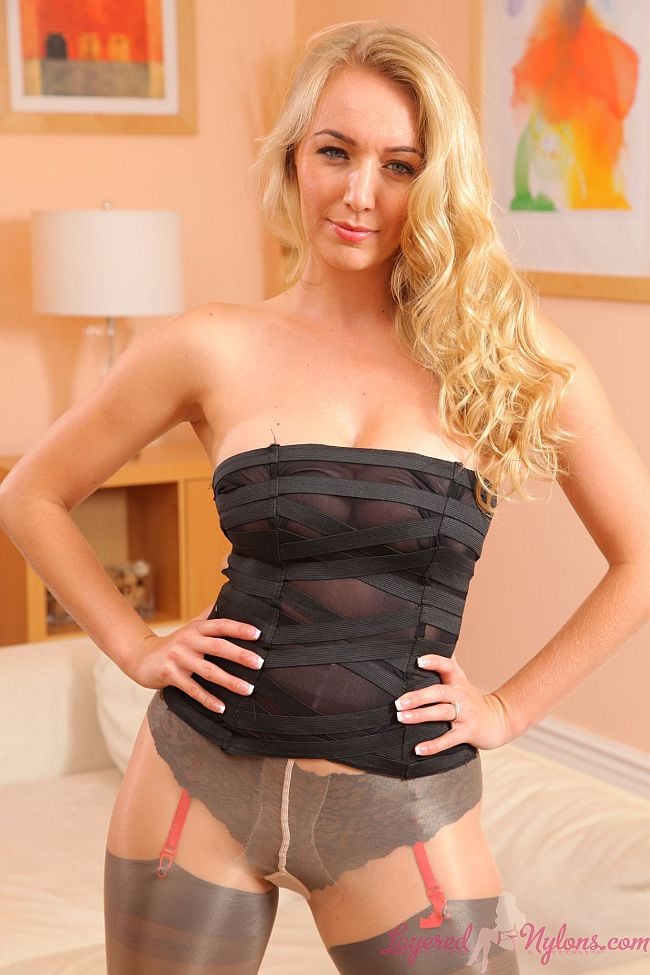 Beautiful blonde Hayley-Marie posedin a black fashion corset that clung to her waist and held her breasts firmly in place, a short, red skirt and shiny nylon hosiery.
Sitting on the sofa, she opened her legs to give an up-skirt view of her black panties, red suspenders and black stockings under the layers of her beige, sheer nylon pantyhose.
Giving a rear view, she stood and unzipped the skirt, bending over as it slowly slipped down her legs in their layers of shiny nylon hosiery. Lacy black knickers clung to her ass cheeks under her sheer hose, the red suspenders stretching over the back of her thighs, straining on the tops of her black stockings.
Hayley-Marie reclined on the sofa and spread her legs to show the semi-opaque oval of her pantyhose gusset, stretched over the crotch of her sexy black panties. She pushed her hand down her hose and under the black tops of her stockings, spreading her fingers over the flesh of her thigh and thrusting her arm deep inside her sexy tights.
Reaching behind her back to release the catch of her corset, she stripped it away to reveal her gorgeous peachy breasts and their pink nipples. Sitting, she slipped off her black, shiny stiletto heels, then pressed her legs together and swung them up to give a close-up view of her feet in their layers of silky nylon hosiery.