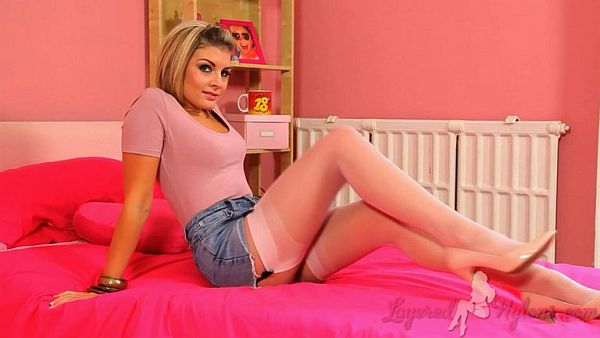 Naomi has just got back from college and changed into her causal clothes before she goes out and meets her friends. As it's cold outside she's decided to wear a layer of pantyhose under her stockings to keep her legs warm.
You wouldn't know she was wearing a double layer of nylon, as the white stockings layered over her cream tights blend together quite well. But when she sits on the edge of the bed with her legs crossed, you'll see a tantalizing glimpse of white stocking tops appearing as her short denim skirt rides up her thighs.
Leaning back she pulls her skirt up even higher, revealing taut black suspenders that wrap around her thighs and pull on the top of her white nylon stockings. She caresses her legs in their shiny nylon layers, then slips her hand down between her stocking tops and layer of pantyhose underneath.
Naomi wiggles out of her skirt and we see she's wearing a black suspender belt decorated with pretty pink trimming, then lifting off her top reveals the satin polka dotted bra underneath. She gives a cute smile as she slips the straps of her bra off her shoulders and uncovers her petite breasts with their rounded, bud-like nipples.
Naomi stands to give a close up, rear view of her ass sheathed in a layer of nylon hose, under which she is wearing a black thong. She pulls up her stocking tops and adjusts her suspenders, then turns around and poses topless while displaying her lovely legs in their layers of silky, shiny nylon.
See Naomi teasing and posing topless in her layers of stockings and pantyhose in this video at Layered-Nylon.