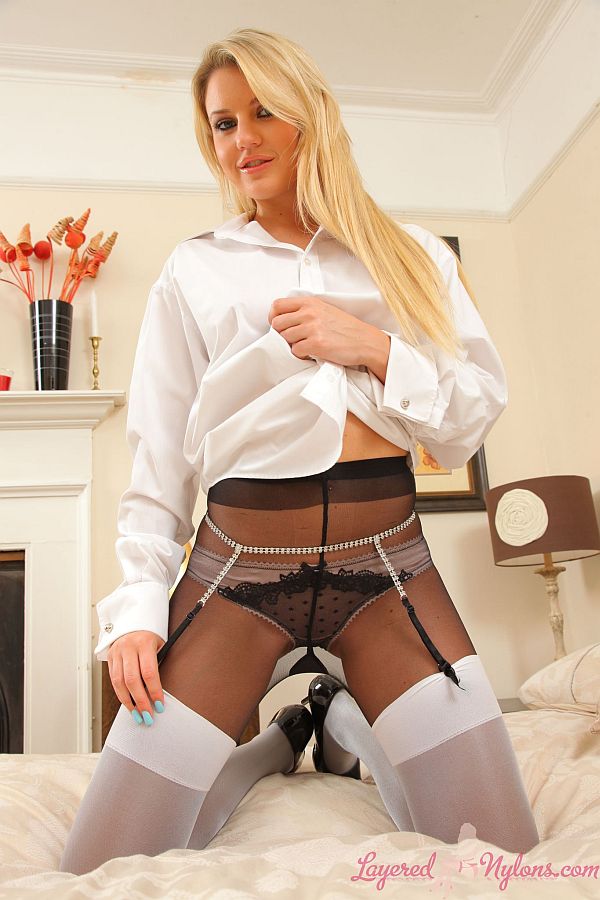 Naomi looked incredibly sexy in a long white shirt that hung loosely down to where her contrasting white stockings and black suspenders appeared so tantalizing around the tops of her thighs.
Lifting her shirt higher revealed she was wearing a decorative suspender belt over black, sheer nylon pantyhose, and a pair of sexy satin, full back panties.
Naomi stripped off her shirt to show she was naked underneath and posed topless as she removed her heels and began to detach her suspenders from her stockings. One buy one she removed each stocking, then stood to roll down her pantyhose and give a view of those tight fitting, full-cut panties which clung to the shape of her ass.
Having stripped off her tights, she rolled each of her white stockings up her legs and reattached them to her suspender belt. She then pulled on her black pantyhose and layered them over the tops of her panties, suspender and stockings.
Having completed her reverse striptease, she knelt on the bed and posed with her pendulous all natural breasts on display as she stretched the waist of her pantyhose up her front.