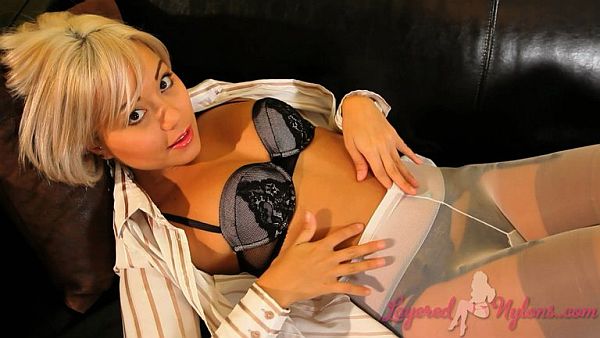 'Hi, I'm Lily. Hope you enjoy my little striptease today,' said our favorite oriental cutie, looking like a smartly dressed secretary in her white and grey striped shirt and black pencil skirt.
Lily gave several of her warm and inviting smiles as she sat and brushed her hands over her slender, crossed legs which appeared to be clad in opaque nylon pantyhose. Though when she pulled back the hem of her skirt, we noticed that she was actually wearing a pair of black stockings underneath the her layer of white hose.
Lily lifted her legs onto the leather sofa, and as her skirt moved higher up her thighs it revealed the bumps of her black suspenders lying just under the layer of her nylon tights.
Slipping off each of her patent leather heels for a quick look at her nyloned feet, she then unzipped her skirt to show she was wearing black, full-cut panties and a black, lacy suspender belt under her layer of pantyhose.
Lilly reclined on the leather and brushed her nyloned legs together, slowly unbuttoning the front of her shirt and opening it to reveal a very sexy black bra underneath. She removed the shirt, then slipping each of the thin bra straps over her shoulders, she unclasped it at the back and gently pulled it away from her chest to reveal her perfectly formed breasts with their pert nipples.
Lilly stood on her nyloned tiptoes as she posed topless, turning to give various views of her lingerie and pulling her white pantyhose around her slender waist and over the turquoise jeweled piercing which adorned her belly button.