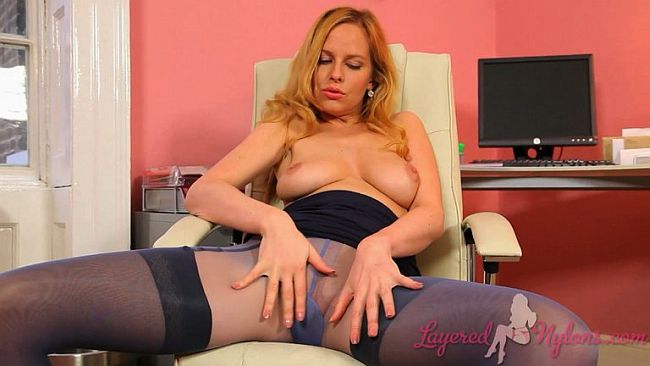 Luscious redhead Monika is today's seductive secretary, dressed in a tight fitting, black pencil skirt, nylon and heels, she begins her tease by running her hands over the contours of her shapely figure.
Leaning against the edge of the desk, she smiles playfully as she slides the skirt up her thighs, revealing black suspenders and the tops of her black nylon stockings, under a layer of shiny, sheer nylon pantyhose.
Her legs slightly parted, she pushes the tips of her fingers between her tightly close thighs, where a tantalizing glimpse of pubic hair is just visible through the sheer nylon pantyhose under her skirt.
Monika turns and lifts her skirt, swaying seductively as she moves her hands over the surface of her pantyhosed ass; the suspenders stretching and pulling on the tops of her stockings.
Sitting in the chair with legs crossed, she unbuttons her shirt to reveal a sheer, black bra, through which the pink nipples of her breasts are almost visible. Slipping the straps of the bra over her shoulders she plays with her tits, pressing them between the side of her arms and brushing her fingers over the erect nipples.
She opens her legs to reveal a black, lace suspender belt, stretched around her hips, and the taut suspenders framing the sheer nylon crotch of her pantyhose, behind which she is fully sans panties.