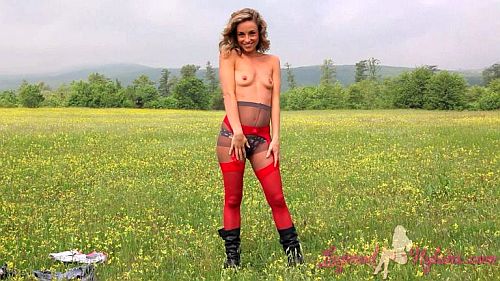 We took Melanie outdoors a few weeks ago and she put on a very teasing performance in her layers of stockings and pantyhose while standing outdoors in the middle of a field, as seen in her video at Layered-Nylons.
'I'm wearing these gorgeous stockings and tights and they feel amazingly soft', Melanie said, as she seductively moved her body and run her hands up and down her legs sheathed in layers of nylon.
As Melanie teased up the the edge of her tight denim skirt, we caught a tantalizing glimpse of her pert buttocks and the floral patterned panties she was wearing under the sheer nylon pantyhose.
Melanie's fingers tugged at the red straps of her suspender belt and played around the tops of her nylon stockings. Then unbuttoning the tight denim skirt she let it slip down her legs, and pushed her hands down the front of her tights. She allowed her fingers  to playfully move around the crotch of her panties and caress her naked thighs under the layer fine stretchy sheer nylon.
Melanie then took off her top and removed her matching bra and stood semi-nude in the field, swaying her hips in sexy layers of lingerie and stockings over pantyhose.
We are sure you'll enjoy watching Melanie do a very seductive striptease outdoors in layers of nylon in her video at Layered-Nylons. She is hot!