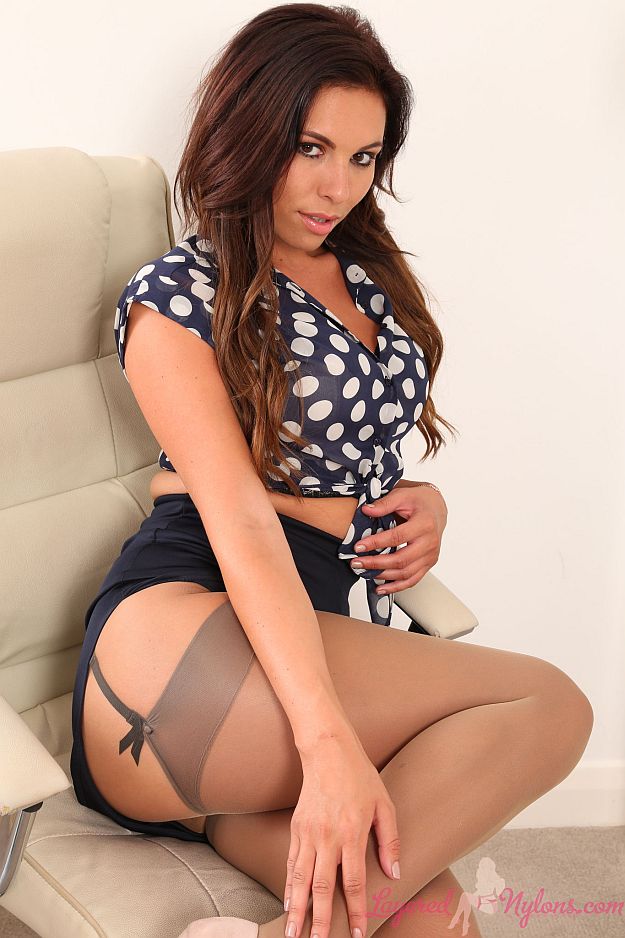 Secretary Maddie's long brunette hair cascaded over her shoulder as she posed, looking incredibly alluring in her polka-dot top, navy blue pencil skirt, which had a side split that showed her legs in tan nylon hosiery.
Maddie sat in the chair and opened a draw in the filing cabinet, one leg crossed over the other so the side-split of her skirt revealed black suspenders that pulled on the taut tops of her stockings.
Maddie stood and stripped the skirt over the cheeks of her fabulous round ass, revealing the back of her lace pantie thong that covered the top of her buttocks, under the layer of her tan nylon hose.
Untying the front of her sexy, polka dot top, Maddie pulled it open to uncover the light-grey, half line bra that held her breasts firmly in place. She stripped off the top and posed with her hands around her hips, showing the black lace suspender belt and the matching grey thong under her sheer nylon pantyhose.
Maddie sat in the chair, took off her pink stiletto heels and lifted her legs onto the desk top to give a view of her feet in their layers of nylon. She released the bra catch and held the loosed cups in place over her boobs, before stripping it away and uncovering her all natural breasts.