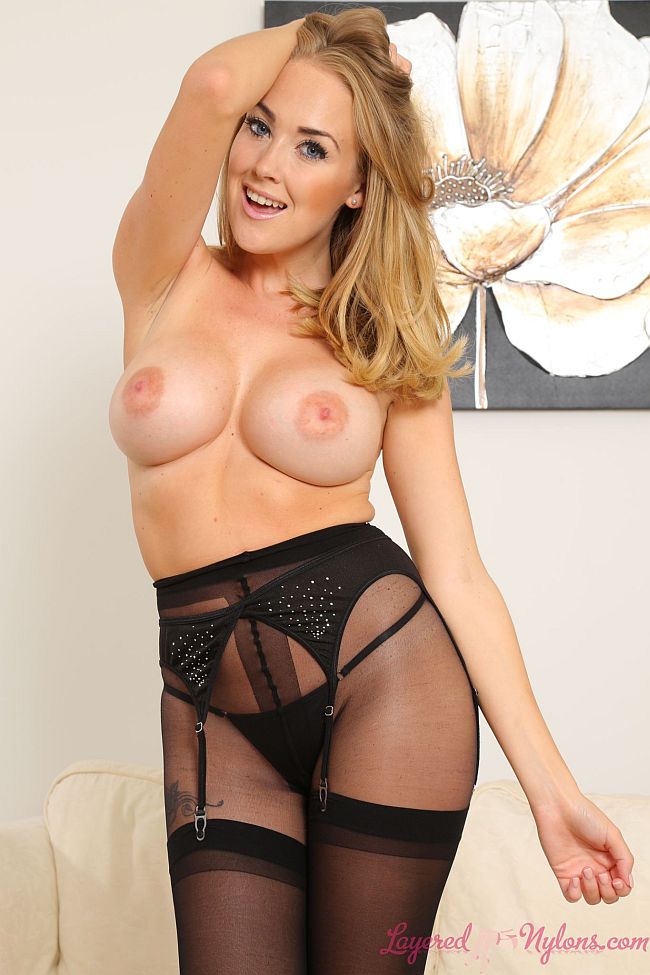 Glamour blonde Lucy Anne returns looking fabulous in a pink, low cut dress that gives us a tantalizing view of her lovely breasts, and her legs in black hose and pink suede and gold, stiletto heels.
Sitting on the sofa, Lucy opens her legs to give us a tantalizing view of her black stocking tops and the crotch of her panties under the layers of her sheer nylon pantyhose. Her shapely legs look so appealing in their layers of black nylon, and she lifts them high to cross her ankles and display her sexy stiletto heels.
Lucy puts her hands over the front of her dress and pushes her naked breasts together inside the low cut open neck showing her cleavage. Lifting the dress reveals a black suspender-belt studded with diamante, and the suspenders framing the tiny black thong under the layer of her sheer pantyhose. Then hooking her thumbs under the straps of her suspenders, she pulls them outward so the metal clasps tug on the tops of her sexy stockings.
Stripping off her dress she reveals her gorgeous, all natural breasts and poses topless for us in her black suspenders, panties and layers of nylon hosiery.