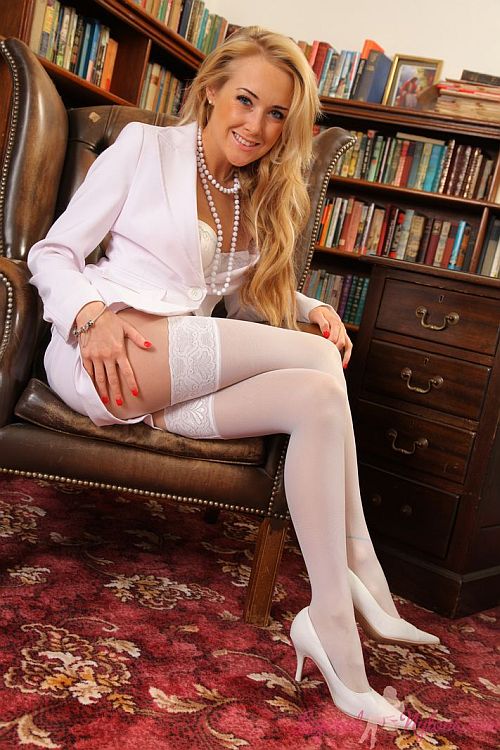 Lucy-Anne looked like a very elegant librarian in her smart white suit, matching twinset of pearls and sexy glasses perched on her nose through which she peered with her pretty blue eyes. Her long blonde hair cascaded over her shoulder as she sat and removed her glasses, then crossed her legs and swept her skirt up her thigh, revealing the lacy tops of her white stockings layered over fine denier white pantyhose.
She pulled open her white jacket and allowed it to fall from her shoulders, revealing that underneath she was wearing a white satin bustier, then sat on the desk and opening her legs gave us a glimpse of her white panties behind the sheer nylon crotch of her pantyhose.
Lucy removed her skirt and reached round her back to unhook the bustier, quickly letting it fall away to uncover her pear shaped breasts between which the set of pearls hung in her cleavage. Then she pulled on the waistband of her hose and stretched them all the way up to the level of her nipples and pushed her breasts together at the same time.
Removing her shoes she sat and lifted her legs, crossing them at the ankles for a view of her nyloned feet. She then stood and peeled her pantyhose down to her thighs and revealed her white panties and turned around to offer a view of the smooth, soft cheeks of her ass.
See sexy blonde librarian Lucy-Anne teasing in her layers of stockings and sheer nylon pantyhose in this 133 image photo set at Layered-Nylons.