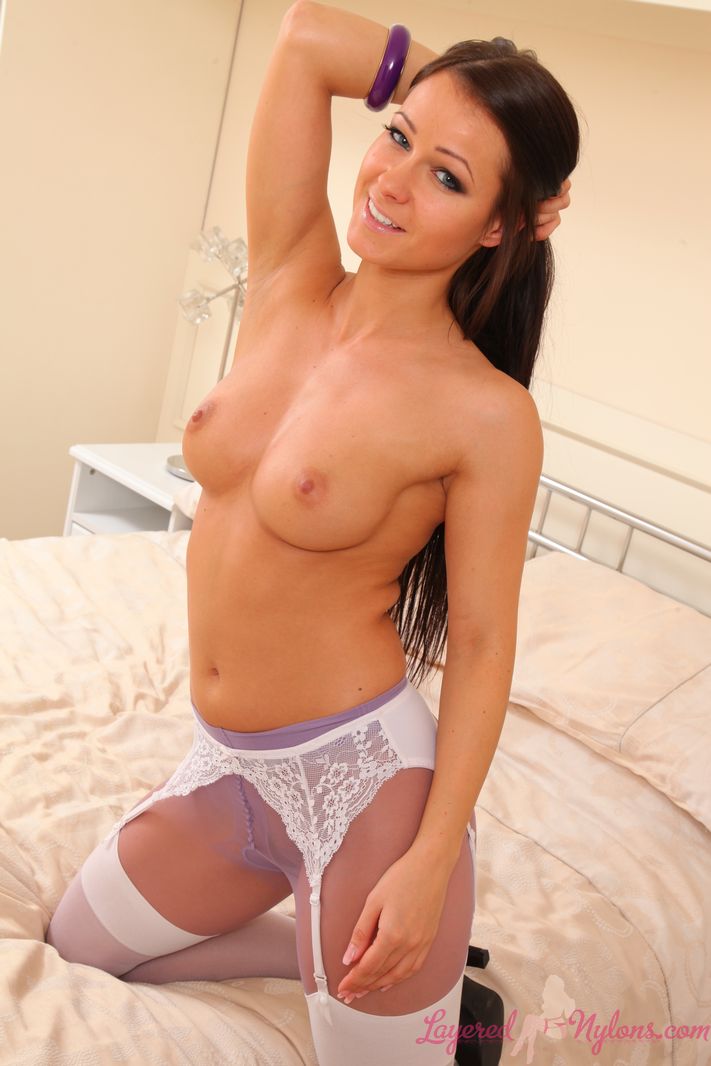 Kristina looked very pretty as she stood by the bed in her purple satin babydoll nightie with the black lace fringe, below which her suspenders stretched down so tantalizingly to the tops of her white nylon stockings layered over sheer nylon pantyhose.
Kristina lifted one leg and placed her foot on top of the bed resting her hand on her knee, the taut suspender stretching around her lovely thigh and pulling on the top of her shiny nylon stockings. Her shapely legs looked very appealing in her layers of nylon, especially the white stockings which contrasted very effectively against the light plum colour of her sheer tights.
Sitting on the bed Kristina opened her legs slightly to show that she was actually sans panties below her sheer to waist pantyhose, though the slightly opaque oval gusset patch teasingly concealed her nakedness beneath.
Kristina then knelt and lifted her nightie to show the lacy white suspender belt around her hips and the area of her crotch framed by the suspenders attached to the tops of her stockings.
Untying the ribbon at the back of her neck allowed the front of her purple satin nightie to fall open and uncover her all natural breasts. She then removed her shoes and lay on the bed and posed topless in various positions to provide a view of her sexy ass and legs sheathed in their nylon layers.
See gorgeous brunette Kristina posing topless in her layers of lingerie, stockings and pantyhose in this 128 image photo set at Layered-Nylons.