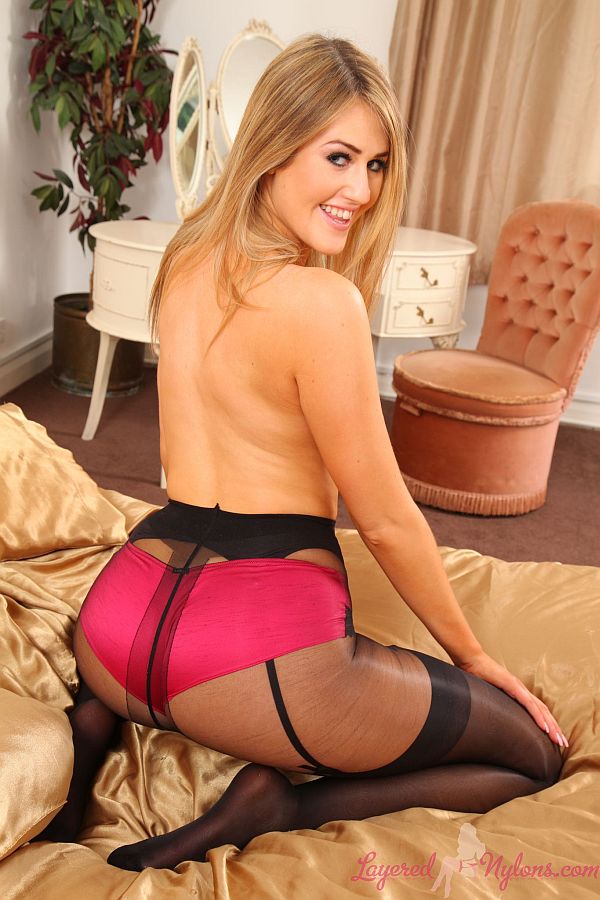 Alluring and enticing, it looked like Lola was ready for a night of passion they way she was dressed in her bedtime attire. We are sure your passions will be ignited when you see Lola wearing her orange satin and black lace camisole, legs in shiny nylon hose and glitter heels in her latest photo-set.
Lola stood by the bed and turned to show off her shapely legs in their shiny, black nylon hosiery. The long black suspenders stretching down her thigh and attached to the tops of her stockings, appeared so tantalizing below the hem of her short, satin camisole.
Laying on the bed and slipping off her heels, she stretched out her legs across the gold, silky sheets and lifted the orange slip to reveal pink satin panties under the layer of her black, sheer nylon pantyhose.
Lola slipped the thin black straps of her camisole over her shoulder and stripped it off to expose her all natural breasts, then stood up on the bed in her stockinged feet.
Her breasts jutted out as she pushed down the front of her pantyhose to show the black, satin suspender belt and the black lace and pink satin of her knickers. Then she pulled the pantyhose back over her hips and swept her hands over the golden tanned skin of body and caressed the softness of her lovely, naked breasts.
Lola lay down on the bed and extending her legs upward, she crossed them at the ankles to give a close up view of her feet in their layers of black, nylon hosiery.