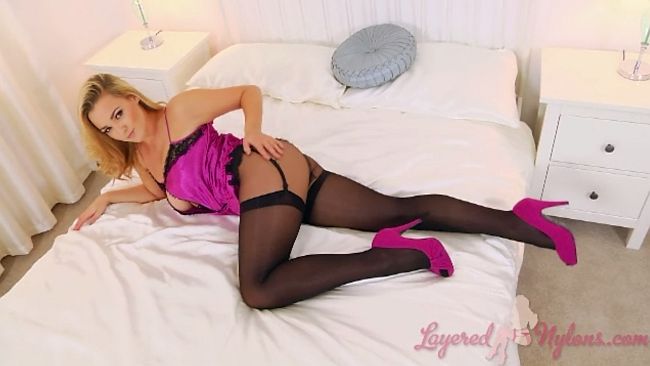 Jodie Gasson stood by bed and opened her slinky black satin robe, and ran her hand over the pink satin of her teddy. Her thighs were covered in layer of black pantyhose, over which she was wearing black suspenders and stockings, her feet adorned in pink, open toe heels.
Jodie brushed her hand through her blonde hair and caressed her body through the contrasting satin that felt so soft against her her flesh. The gown slipped over her shoulders and down her arms and she massaged her breasts, lifting and pressing them together through the lose fitting satin. Standing, she placed one foot onto the bed, her suspenders stretching under her thighs and pulling on the tops of her stockings as her hand swept over her legs and up to the satin crotch of her teddy.
Discarding the satin gown, she knelt on the bed and presented her ass, the gusset of the pink teddy stretched tight between her buttocks and under the crotch. She ran her hands over the cheeks of her ass, then lay on her front and folded her lower legs back to highlight her sexy, pink heels.
Jodie rolled onto her back and slipped off her heels, then lifted up her legs and held them close together as she pointed the toes of her pretty feet in their layers of black nylon hosiery. She momentarily crossed her ankles, then rubbed the sole her right foot against the other leg, sliding it up to the knee, then a slow slide back along the shin to finish by rubbing her stockinged feet together.
Jodie untied the front of her teddy and opened it to reveal the peachy mounds of her perfectly formed, all natural breasts. Gently shaking her shoulders from side to side made her breasts wobble and bounce freely, her fingers sinking into the soft, ample flesh, as her hands squeezed and pushed her boobs together.
Finally, she stripped off the teddy and stood by the bed in her stockinged feet, running her hands over the lovely curves of her shapely figure as she posed topless in her layers of lingerie and nylon.