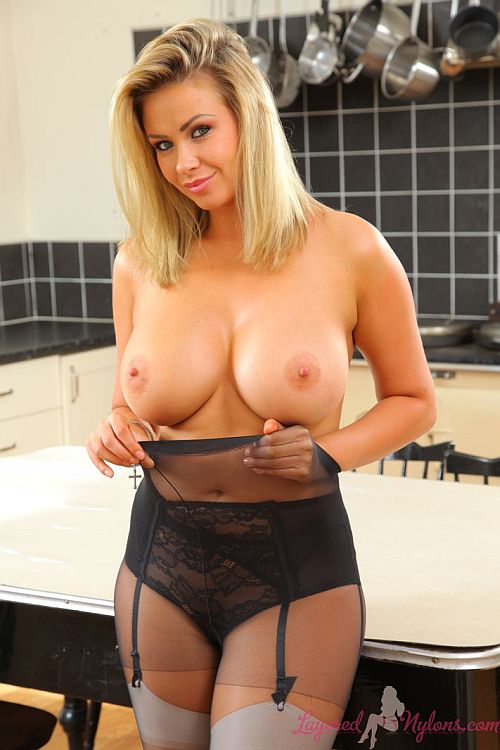 Busty blonde Leah F looked stunning as she posed with her hands in her hair to show off her shapely figure outlined by the figure hugging dress she was wearing. We could see the bumps of her suspenders under the material of her dress, and a tantalizing glimpse of the tops of white stockings appeared just under the hem.
Leah climbed on the table and getting into a kneeling position she pulled up her dress to giver a view of her lovely rounded ass sheathed in black sheer nylon, and the sexy black lace panties she was wearing under her tights.
Leah was wearing a black suspender belt under her panties, and the suspenders stretched all the way round her thighs to pull on the taut tops of her nylon stockings. Her white stockings, which looked almost grey under the layer of black hose, had thin white seams running up the back of her legs.
Smiling, she pulled down her dress and uncovered her gorgeous full-size breasts, which looked soft and almost perfectly symmetrical in shape and size as they hung down from her chest. Then Leah lay back and dangled her heels from her nyloned toes before she slipped each of them off and gave a close up view of her feet encased in layers of nylon.
Leah pushed her hands down the rear of her pantyhose for more views of her ass in those sexy panties, and then stretched her hose upwards and pulled it up to the level of her breasts.
See gorgeous blonde Leah F teasing in her layer of black sheer pantyhose over nylon stockings and panties in this 129 image photo set at Layered-Nylons.