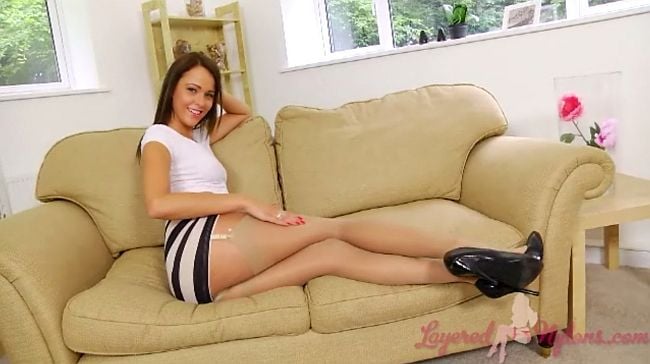 'Hello boys, I'm Lacy Jay and today I'm going to be doing a nice little tease for you in my stockings and my tights,' Lacy said, lifting up her skirt and running her hands over her suspenders and the tops of her tan nylon stockings.
It looked very exciting as she ran her thumb under the welt of her beige tan nylons, then slipped her fingers down the tops of her nylon stockings and under the layer of pantyhose that clung to her thighs. Such a teasing performance she gave, caressing those creamy suspenders and the gorgeous layers of beige-tan nylons around her shapely legs.
Lacy knelt and pulled her skirt down over her ass, revealing her cream colored suspender-belt and shapely buttocks, sheathed in the fine layer of her beige-tan hose.
When she turned around we could see that she was sans panties under her sheer nylon pantyhose. She then pulled off her top to reveal her petite, all natural breasts and ran her hands over her perky nipples as she posed topless in her layers of lacy lingerie and nylon.