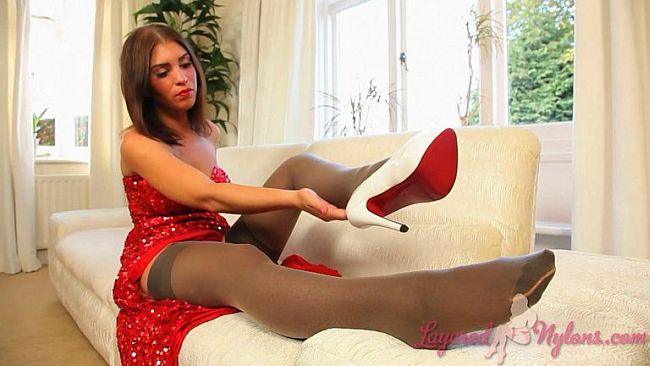 Kirsty P posed in a very glamorous, red sequined, evening dress which reached the floor and had a revealing side split through which showed one tantalizing leg clothed in dark nylon.
Kirsty parted the side split to give a glimpse red suspender attached to her black stocking top and reached down to caress her ankles, drawing her fingers up her legs and over the smooth surface of her sexy hose.
Kirsty admired her nyloned legs as she sat on the sofa, then slipped off her white platformed and stiletto heeled shoes, revealing her attractive feet cocooned in their opaque nylon layers. She then shifted into a kneeling position and lifted up the back of her dress to rub the cheeks of her ass, encased in it's fine layer of tan, sheer nylon.
Kirsty stripped off her dress by letting it slide down her body and legs to the floor, whereupon she stepped out of it and posed in her lingerie with her naked breasts on display, while standing in her stockinged feet.
Kirsty pulled and stretched on her high waist, tan pantyhose before letting the elasticated nylon snap back against her flesh several times, then rolled her tights down to her thighs and uncovered her red suspender belt and the triangle of her pantie thong.