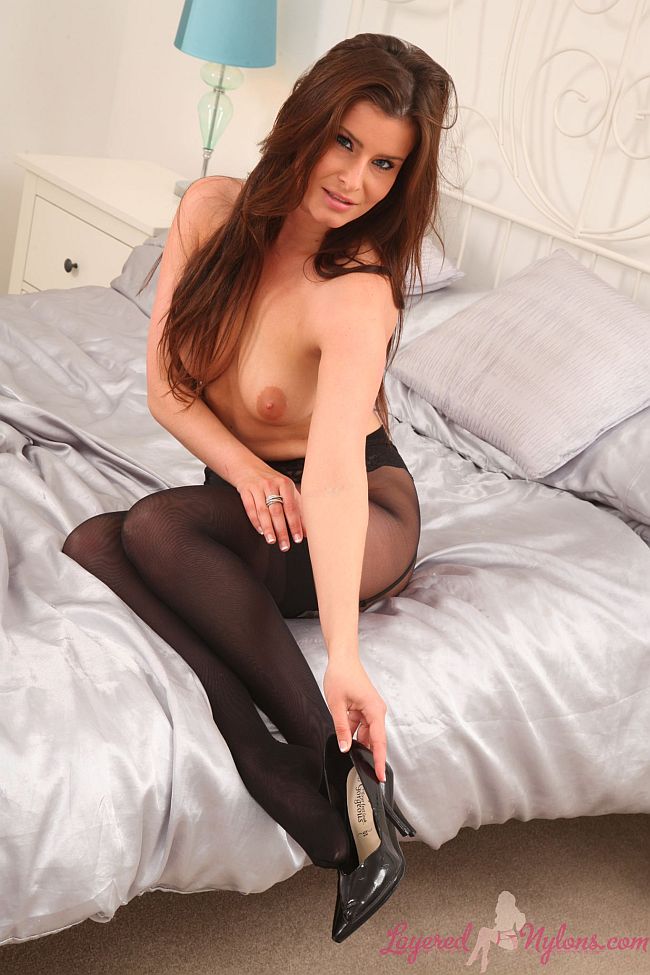 Kamila looked so alluring with her long brunette hair, high cheekbones, full lips and captivating eyes, posing in her matching purple top and skirt, her gorgeous legs poised to perfection in black hosiery and stiletto heels.
Kamila combed her fingers through her beautiful hair as she lay on the bed, lifting up and rubbing her legs together and crossing her ankles to show her stiletto heels. She got into a kneeling position with her legs spread apart and her skirt lifted above her thighs to reveal she was sans panties behind the gusset of her sheer nylon pantyhose.
Kamila stood by the bed and pulled down her skirt to reveal the black suspender-belt around her hips attached to her stockings and layered over sheer nylon pantyhose. She unzipped the back of her top and stripped it away, holding her hands over her chest momentarily, then fully exposing her all natural breasts and posing topless.
Kamila knelt on the bed and thrust her hand down the inside of her pantyhose and under her suspender-belt, spreading her fingers over the soft flesh of her fabulous buttocks. She hooked her thumbs under the waist of her pantyhose and pulled upward so the reinforced nylon gusset stretched around the mound of her naked crotch.