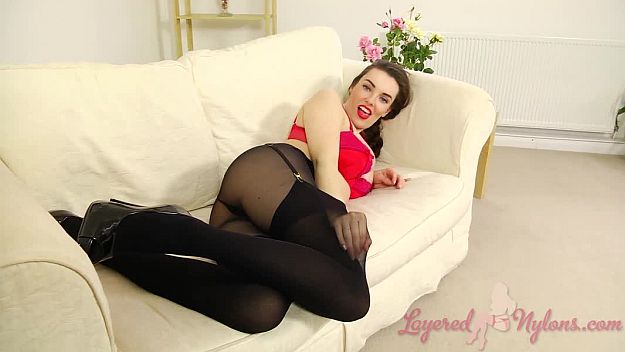 Harry Amelia blew us a kiss as she introduced herself and leaned forward to give an eyeful of her ample cleavage spilling out of the open top of her emerald-green dress. She cupped her hands under her bosom and squeezed her boobs together, shaking her shoulders from side to side so her breasts jiggled about inside the front of the dress.
Harry turned and bent over as she stood with her legs slightly apart, pulling up the back of the dress to reveal her pert buttocks encased in black pantyhose. She swayed her rear end and the black suspenders stretched over her thighs, pulling taut on the tops of her stockings which were layered over her pantyhose covered ass cheeks.
Harry gave her ass a couple of slaps and thrust her arm down the inside of her stocking and moved her hand under the stretchy nylon as she caressed her leg covered in sheer nylon pantyhose. The layer of her nylon stocking formed a web around her fingers as she spread them wide and drew her hand back up to her nylon clad thigh.
Harry sat on the sofa, gave us a wink and stripped the dress over her head, revealing a red satin, vintage style bra that uplifted the ample flesh of her cleavage. She lay on her back and opened her legs to show the red panties that covered her crotch under her black pantyhose, and pushed both hands down the inside of her stockings and over her pantyhose clad thighs.
Sitting up, she released the catch of her bra and massaged the loosened cups around her voluptuous all natural breasts. She stripped the bra away and fondled the soft flesh of her all natural breasts in her palms, squeezing gently with her fingers and shaking her boobs so they swung freely from her chest.