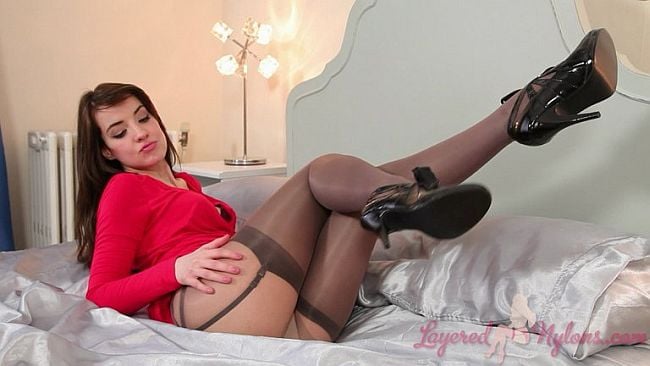 'Hi guys. I'm Jojo and I hope you enjoy my video,' said our luscious brunette babe as she blew us a kiss and began lifting the hem of her red dress over her thighs to reveal black suspenders attached to the tops of her black, nylon stockings, under shiny, sheer nylon pantyhose.
Jojo turned and lifted the dress higher to show her skimpy black panties, which barely covered the cheeks of the her ass sheathed in sheer nylon pantyhose. She looked back and smiled as she rubbed her hands over her nyloned ass and gave a view of the reinforced gusset and seam of her hose, which ran up from under her bum cheeks.
Jojo reclined on the bed and caressed her legs in their layer of shiny, sheer hose and seductively untied the ribbon which held her shoes in place and slipped them off. Then she lowered the front of her dress and removed her bra to uncover her all natural breasts and the red buds of her nipples.
Laying back, she slid the remainder of the dress down her legs and let it fall away from her dainty feet encased in their layers of tight fitting nylon. Then she sprawled on the satin sheets, brushing her legs together and pulling on the waist of her hose to stretch it up her belly and and letting it snap back into place.