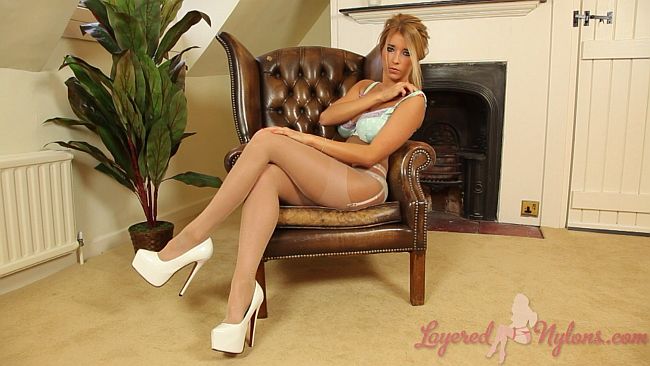 Jodie was just about to go shopping, wearing a red, close fitting top and sexy flared skirt, and turned to show off her slender legs, sheathed in a layer of tan nylon hosiery.
Jodie lifted up the skirt and held it about her waist to reveal her pantyhose were layered over polka dot panties, a lacy suspender belt and tan nylon stockings.
Sitting in the chair with her legs crossed, she pulled her skirt up her thigh to show her suspenders and drew her fingers across the silky surface of her tan nylon hose. Then kneeling, she lifted the back of her skirt and ran her hands over her buttocks, encased in her satin panties and sheer nylon tights.
Jodie stood to unzip her pretty skirt and let it slide down her legs clad in silky hosiery, then brushed her fingers over the curve of her ass and the bumps of the suspenders attached to her shiny, stocking tops.
Jodie stripped off her top, revealing her heavy bosom clad in a matching polka dot bra, then slipping the straps over her shoulders, she released her all natural breasts and posed in her layers of lingerie and nylon.