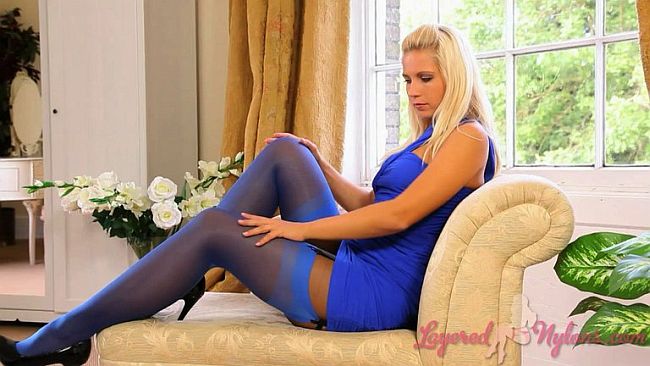 Blonde babe Jenni P looked so alluring as she she moved seductively and lifted the front of her tight dress to reveal black suspenders and blue stockings, layered over black nylon pantyhose.
Jenni gently swayed her hips and ass as she turned around, pulling up her dress at the rear, revealing her black suspenders stretching down the back of her thighs to her stockings tops. She smoothed her hands over the cheeks of her bum sheathed in black nylon hose, then slid them between the layer of her tights and shiny, nylon stockings.
Jenni sat to stroked her legs in their layers of hosiery, then slipped off her heels and rubbed the soles of her stockinged feet over the surface of the couch. Then she stripped off her dress to reveal the stretchy, black garter belt around her hips and the webbing of the suspenders framing the black panties, under her sheer nylon pantyhose.
Jenni's hands uplifted and combed through her long blonde hair and caressed the surface of her semi-naked body and petite, all natural breasts.
Standing in her nyloned feet, she adjusted her stocking tops and suspenders, then slipped her hand down the back of her tights and pushed them against the seat of her stretchy nylon hosiery.