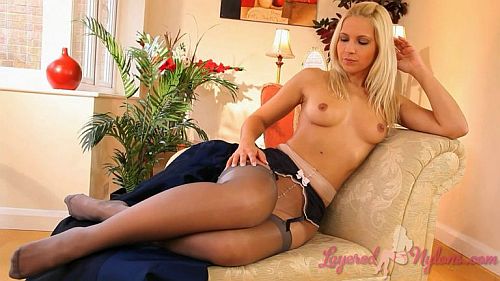 Jenni P looks very elegant in her dark blue Taffeta ball gown which she swishes around as she moves and turns. Sitting down she lifts the folds of the dress to uncover her legs and brushes her hands over the silky surface of her nylon stockings. She seductively pushes her hands between the layer of her stockings and tan nylon pantyhose, then playfully adjusts the tops of her nylons so they are straight.
Relaxing on the couch she uses one foot to slip off one heel and lets the other dangle from her toes. Letting her heels fall to the floor, she teasingly moves one stockinged foot over the other, then gently brushes both of her legs together in a very sensuous manner.
Unzipping the back of her gown, she allows it to fall away to reveal she is wearing a black suspender belt layered over her sheer to waist pantyhose, under which she is sans panties. Her suspenders wrap themselves around her peachy buttocks; stretching over the shiny layer of pantyhose which pull tightly on her dark, stocking tops as she erotically moves her ass in a suggestive way.
Jenni pushes both of her hands down the rear of her pantyhose and moves them under the thin, stretchy nylon, then turning around she playfully adjusts her suspenders and snaps them against her thighs.
Jenni puts on an exceptionally erotic performance as she teases in her layers of stockings and nylon pantyhose in this video at Layered-Nylons.