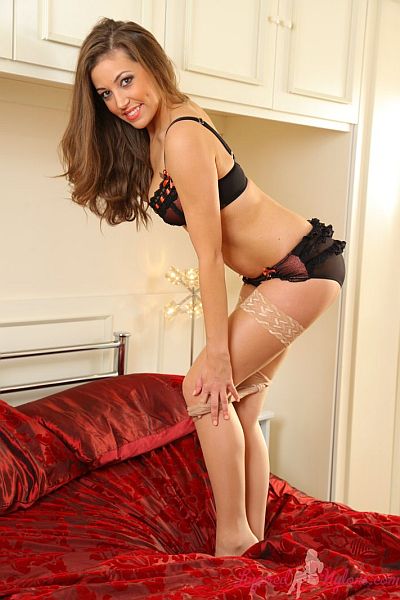 Ava is a very glamorous brunette and one of her best features are her long legs and pretty feet. On this occasion she was wearing cream coloured, sheer nylon pantyhose layered over light beige stockings which showed off her legs to great effect.
Ava lay back on the bed and using each foot in turn, she slipped off her heels and allowed them to dangle awhile before removing them completely. Raising her legs upwards she tapered her sexy feet cocooned in layers of stockings and pantyhose and offered us some close up views of the nyloned soles.
Kneeling on the bed she lifted the rear of her black dress to reveal tight fitting black panties hugging the cheeks of her ass under the shiny layer of her sheer tights. Then slipping the straps of the dress over her shoulders and down her arms, she revealed a black lingerie bra with satin ribbons that matched her panties, and pulled the dress down her long legs to remove it.
Ava stood and pulling on the waist of her pantyhose she stretched them right up to the level of her bra, then pulled them down over her buttocks until they were stretched around her thighs.
Laying down on the bed once more she peeled the layer of her pantyhose from her legs, followed by the stockings, then swapped them around by dressing in her tights and layering the stockings over the top.
See lovely brunette Ava teasing in her layers of nylon stockings and sheer pantyhose in this 129 image photo set at Layered-Nylons.