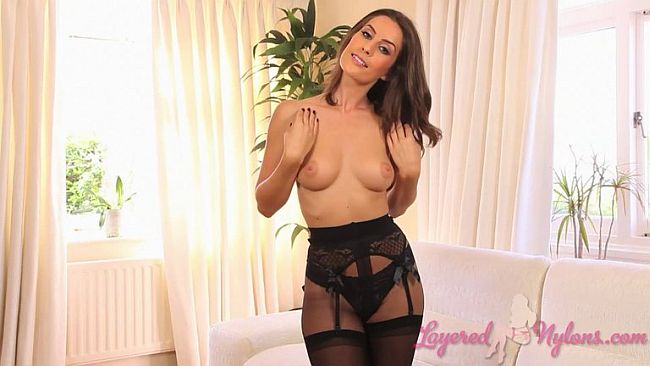 Emily looked stunning dressed in a black satin leotard that clung to her hips and breasts, her legs in layers of black hosiery and stiletto heels, emphasized their shape as she flaunted her figure in her erotic outfit.
She caressed the outline of her body through the layers of clingy nylon and satin, then slipping her fingers between the layers of her hosiery, she brushed the tips over her thighs and the tops of her stockings
Emily admired her legs as she caressed their length, then slipped off her heels and rubbed the instep of her pretty hosed feet cocooned in black nylon.
Kneeling, she presented her shapely ass and her hand swept over the bumps of her taut black suspenders, which stretched down the back of her thighs and pulled on the tops of her black nylon stockings.
Emily stripped off her leotard and black bra to reveal her gorgeous all natural breasts as she stood in her stockinged feet. Then she reclined on the sofa and displayed her long legs and shapely ass in their layers of black lingerie and nylon.