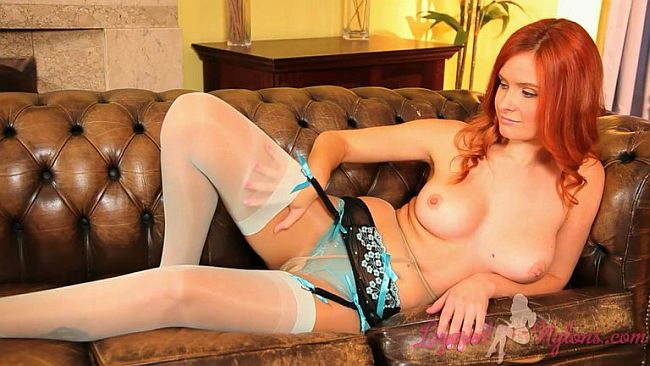 'Hi Guys, it's Elle,' said our deletable redhead as she posed in her mini-skirt, hose and heels. 'I went out tonight and nobody knew I had layered nylons on, but I thought I'd come and show you guys.'
Elle gave a saucy smile as she lifted her tight skirt to reveal black suspenders with blue satin bows, attached to the tops of some light turquoise stockings. She ran her hands up her legs and adjusted her stocking tops and suspenders, then turned around to show she was wearing blue panties under a layer of sheer nylon pantyhose.
Her pantyhose were almost invisible against her thighs and we'd have hardly noticed them, but for the seam running up from the reinforced tan gusset, stretched under her crotch. Then she unzipped her skirt and pulled it over the the cheeks of her bum and revealed the black suspender belt around her hips, layered over her pantyhose and panties.
Elle removed her top to undercover her turquoise blue bra, then slipping the straps over her shoulders, she stripped it away to reveal her all natural breasts and their thick nipples.
Slipping off her heels, she reclined on the leather couch and pushed her hands down the tops of her stockings, as she posed topless in her layers of pretty lingerie and nylon hose.