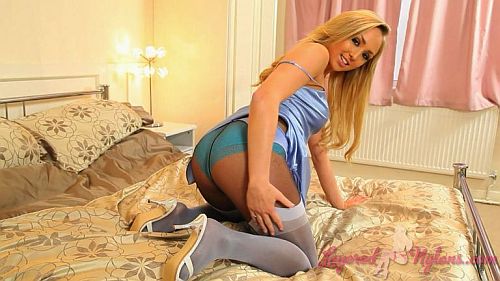 Sexy blonde babe Danni Morgan teases in her satin lingerie and white stockings over pantyhose in her video at Layered-Nylons.
Danni is a real cutie with a fun personality which shines through in her video as she shows off her petite figure, dressed in a lilac blue satin slip and suspender belt attached to a layer of white stockings over black nylon pantyhose.
Danni gives one of the sexiest smiles as she lifts up her satin slip, her hands exploring the taut straps of her sexy lilac blue suspedners which stretch down to the tops of her white nylon stockings. Hooking her thumb under the suspedners, she stretches them outwards to run her fingers back and forth under the straps before snapping them back into place.
Lifting the slip higher, Danni moves her hands over her perfectly formed buttocks sheathed in a sensational layer of black nylon under which she is wearing pair of turquoise blue panties.
Now kneeling on the bed she slowly teases the straps of her slip over her shoulder, uncovering the mounds of her petite breasts; touching and uplifting them with the palms of her hands as she smiles back at us in close up.
Danni then removes her slip and lays back topless on the bed, taking off her shoes to display the length of her shapely legs, thighs and feet in layers of nylon.
Danni is certain to delight you as she teases in her combination layers of lingerie, stockings and pantyhose in her sexy video at Layered-Nylon.