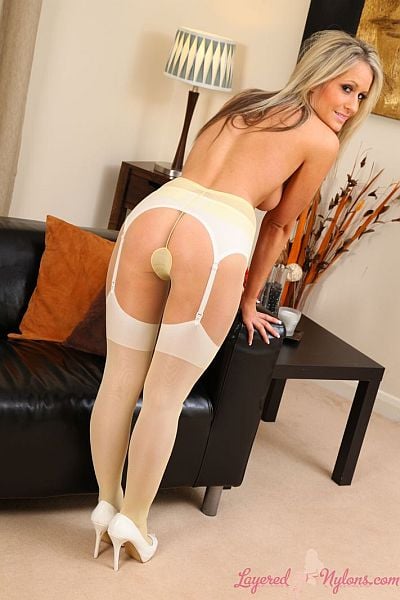 'I've quite got used to being in layers of stockings and pantyhose. It's quite sexy, isn't it?' Candice said, as she was getting ready to go out for the evening.
Under her light summer dress Candice told us she was wearing some very sheer 'lemon popsicle' pantyhose, over white nylon stockings and a suspender belt.
'I'm not sure if the guy I'm meeting prefers stockings or pantyhose. So I'm hoping he will be impressed when he sees what I've got under here,' she said, lifting her dress up so we could see her stocking tops and suspedners.
We doubted Candice would receive any complaints, as she had thoughtfully dressed up to give the guys the best of both worlds, whatever his preferences. The layer of her lemon coloured pantyhose were incredibly sheer as to be almost invisible, yet they sheathed her stockings and suspenders in a delicate sheath of pale yellow nylon.
Candice then slipped out of her dress and posed topless to display her fabulous figure. Turning, she afforded us a rear view of her shapely ass, over which the straps of her suspenders stretched way down to the tops of her white nylon stockings.
Candice was certainly wearing some talented underwear and we assured her, that in our expert opinion her gentleman friend would have no complaints that evening.
See Candice teasing in a layer of lemon coloured sheer nylon pantyhose over white stockings and suspenders in this 135 image  photo set at Layered-Nylons.