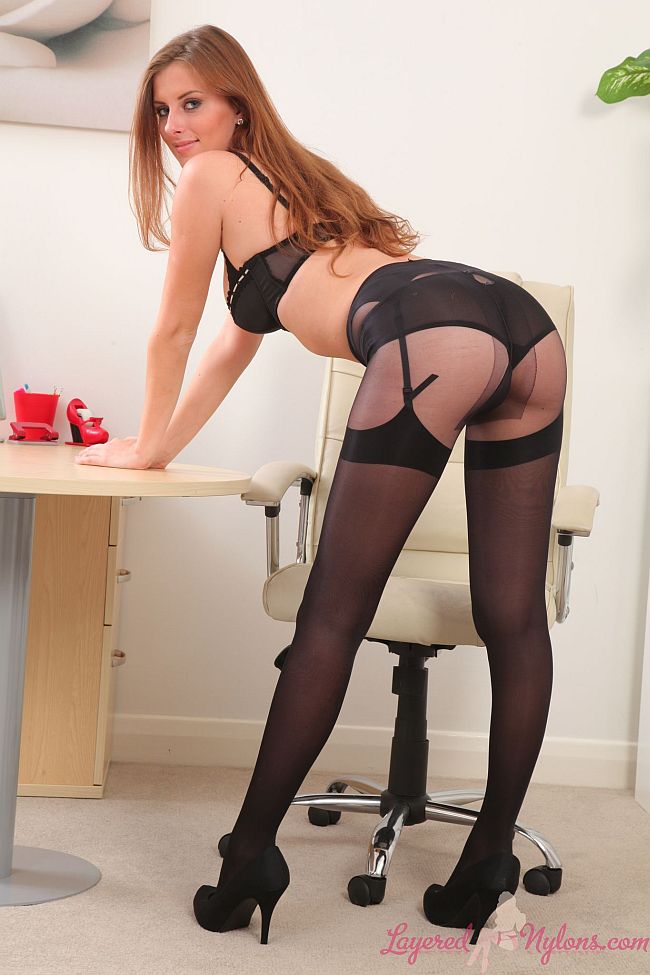 Brunette secretary Danielle arrived in the office today looking super hot, dressed in a tight fitting red top and leather skirt, legs in black hosiery and heels.
Danielle looked stunning as she posed for us sideways on, her breasts thrusting under the stretchy material of her top, showing off the curve of her ass in that short leather skirt, which made her long legs appear to go on forever.
Danielle stood by the filing cabinet and gave a seductive look over her shoulder as she slowly pulled up her skirt, revealing black panties, suspenders and stockings, under a layer of sheer nylon pantyhose. Her ass looked so tantalizing in those full-back panties and black suspenders, which clung to the curve of her shapely buttocks and held them firmly in place.
Danielle stripped off her skirt and top, revealing a black satin, half-cup bra that matched the panties and suspender-belt under her sheer nylon pantyhose. She slipped the straps of the bra over her shoulders and held the cups in place with her hands around her breasts, before removing it completely and posing topless in her layers of lingerie and black nylon hosiery.