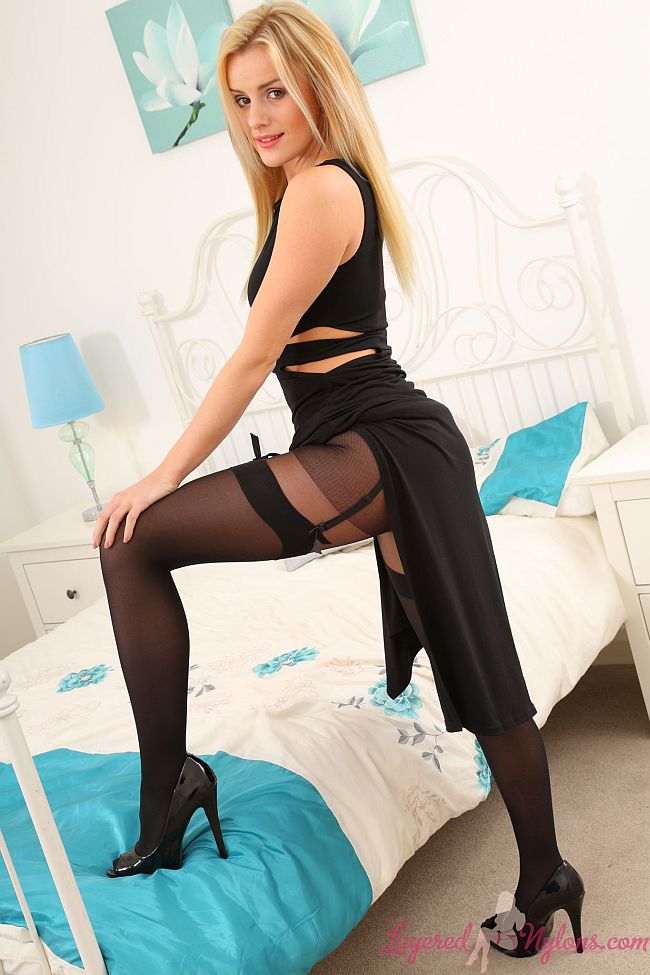 Pretty blonde Amy poses elegantly in her long black evening dress, black nylon hosiery and stiletto heels at the start of this photo-set.
Amy kneels on the bed and lifts up the back of her dress, revealing black suspenders attached to black stockings over a layer of nylon pantyhose. She sits and rests her ass on the back of her legs and heels, and her black suspenders stretch around her thighs and strain of the tops of her sexy stockings.
Amy lifts up the front of her dress and strips it over her head, teasingly covering her naked breasts with her hands, before revealing them fully as she turns to show the black suspender-belt and suspenders framing  her pantie thong under her sheer nylon pantyhose.
Amy reclines on the bed and crosses one leg over the other to slip off her heels and make them to dangle from her stockinged toes. Then removing her heels she gets up to stand in her stockinged feet and stands on tip-toes as she poses topless in her layers of  lingerie and nylon.