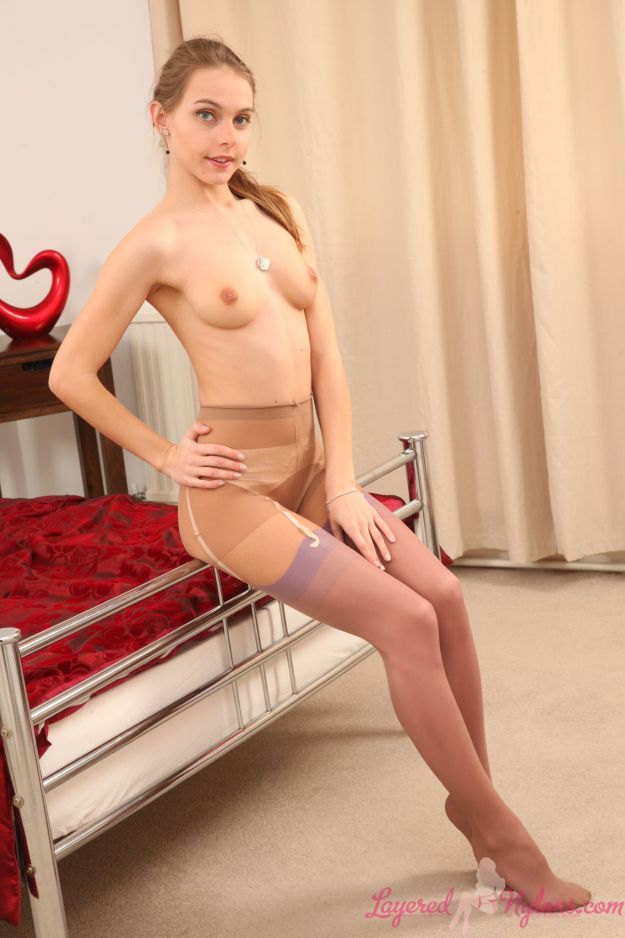 Secretary Chloe loves to tease when she is at work by wearing short skirts and bending over at every opportunity to give the guys in her office a thrill. If only they'd known that below her skirt she was wearing no panties under the layer of her sheer nylon pantyhose! Back home from a fun day at the office, she can't wait to strip off and relax in her layers of nylon hosiery.
Chloe stood at the foot of her bed and glanced over her shoulder as she gave a tantalizing glimpse of the lilac coloured stockings tops below the hem of her short skirt. She pulled up the skirt, revealing white suspenders with their gold metal clasps attached to her stockings, under a layer of tan pantyhose.
Sitting on the rail at the foot of the bed, she unbuttoned her striped shirt and uncovered a red satin and white lace bra that supported her breasts. Having fully stripped off her shirt, she pulled the skirt up above her thighs and gave a tantalizing view of the thin layer of sheer nylon of pantyhose covering her naked crotch.
Chloe stripped off the skirt and bent over to show her bum cheeks sheathed in nylon, and the taut suspenders straining on the tops of her sexy, nylon stockings. She turned and stripped off the bra, revealing her petite all natural breasts, then reclined on the bed to slip off her purple suede, stiletto heels.
Chloe lay on her back and posed topless, lifting up her slender legs to display the soles of her feet and toes in their layers of nylon stockings and pantyhose.