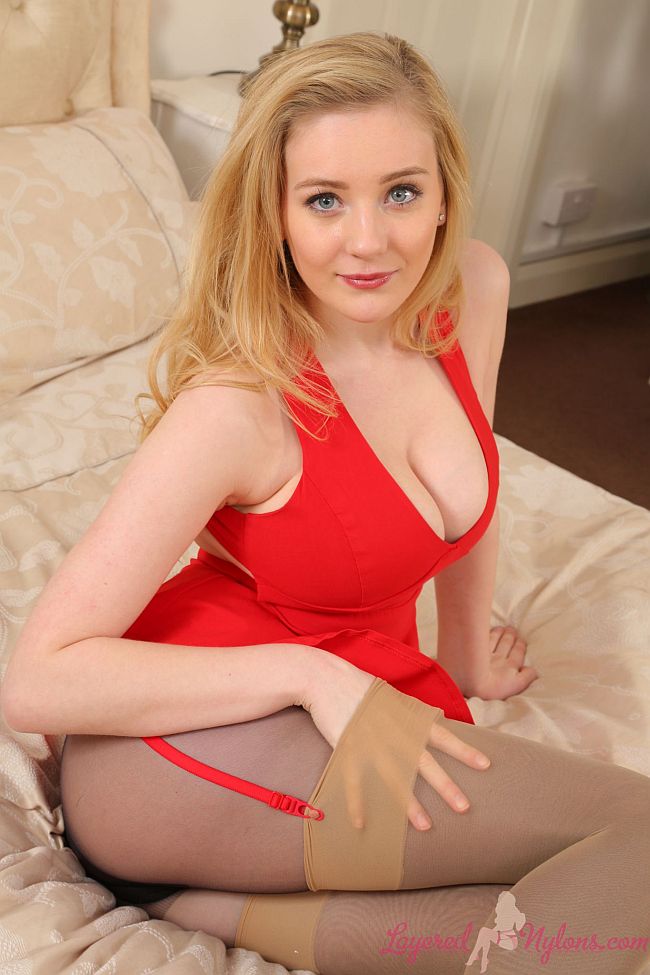 Charlie's long blonde hair frames her pretty face and cascades over her shoulders, the locks falling around the opening of her low cut top that gives a view of her ample cleavage.
Standing in her platform stiletto heels with her hands around her waist, her long black skirt drapes over her legs, except for the revealing side split which reveals a tantalizing glimpse of one one leg.
Charlie strips off her dress and turns to show the pert cheeks of her ass sheathed in black nylon pantyhose, all nicely bound by the layer of her red suspenders attached to her tan stockings.
Reclining on the bed, she caresses her legs and slips her hand down the top of her stockings, spreading her fingers over the layer of black nylon hose covering her thighs. She unzips the back of her red top and allows it to fall away, teasingly concealing her large breasts as she does so, then takes her hands away to fully expose her gorgeous, all natural titties.
Lifting her legs, she slips off her red stiletto heels, then gets up to stand in her stockinged feet and pulls on her pantyhose so the nylon is stretched up to her voluptuous boobs.