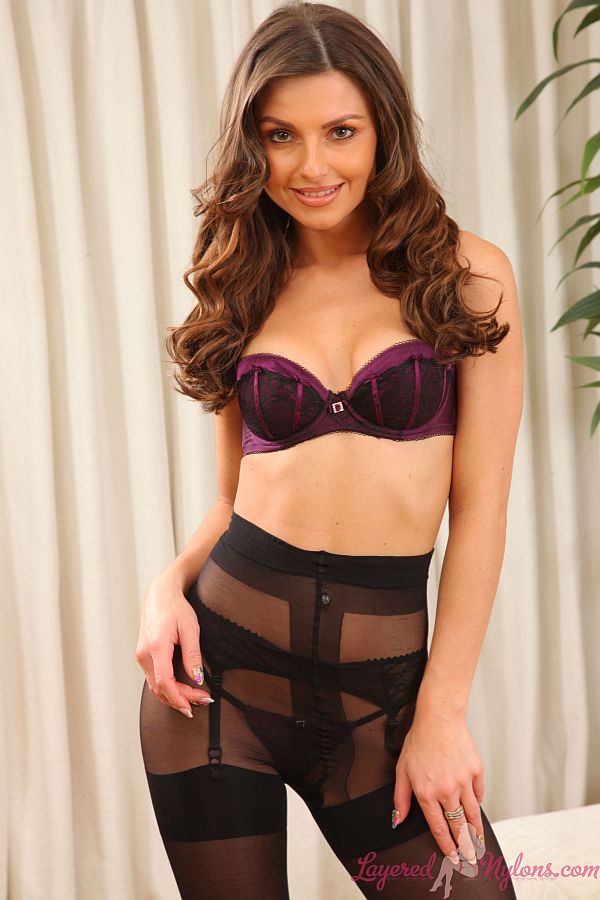 Caroline looked stunning as she walked into the room, her fuchsia pink coat making a soft swishing sound as she moved to stand over by the sofa. She smiled and brushed her fingers through her hair, then she turned on the spot and her coat flared around her thighs, drawing our eyes to her legs clad in black nylon hosiery and stiletto heels.
Caroline unbuttoned her coat and looked back at us as it slipped off her shoulders and slid down her arms, revealing her tight, black dress, clinging to every curve of her fabulous body. Discarding the coat, she stripped out of her dress to uncover the maroon red and black lace designer bra supporting her breasts. The black triangle of her tiny pantie thong was framed by her black suspender-belt and stockings, all under the layer of her sheer nylon pantyhose.
Caroline reclined on the white sofa and hooking her thumbs into the waist of her pantyhose, she stretched it right up her belly to her bra. She looked so relaxed as she posed in her sexy, black lingerie and slipped off her heels, playfully letting them to dangle from her toes encased in their layers of black nylon hosiery .