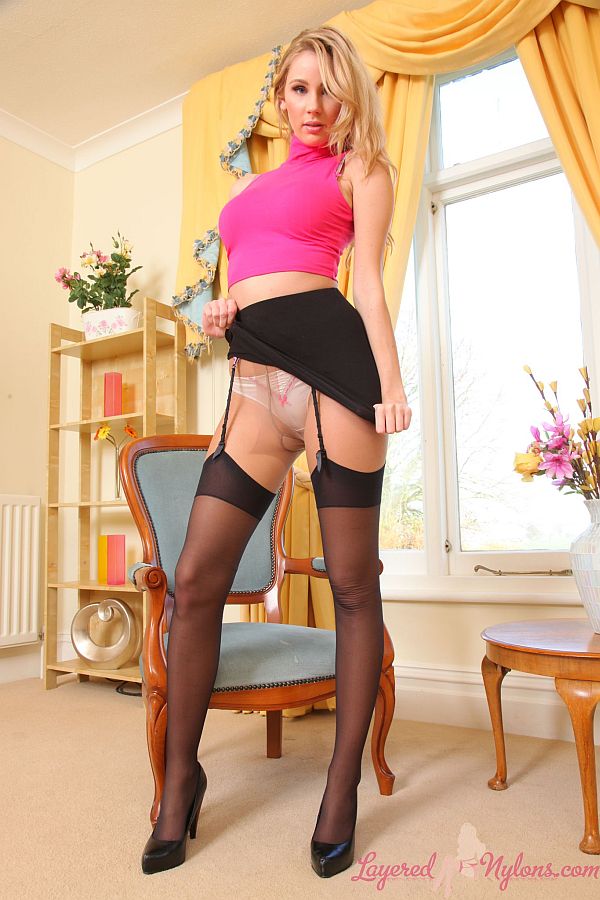 Annie stood as she posed in profile and thrust out her chest so her lovely breasts looked more prominent under the material of her tight fitting pink top. Her skirt was short enough to give a tantalizing glimpse of her black stocking tops and her legs looked amazing as she stood and posed in her stiletto heels.
Annie knelt on the chair and leaned over the back to present her ass and give an upskirt view of the tan pantyhose gusset stretching under her crotch between her thighs. Then she unzipped her skirt and slowly slid the skirt down her long legs and over her spiky heels.
Sitting back in the chair, she revealed more of her pretty nylon suspender belt, layered over her hose and the suspenders stretching down her thighs and pulling taut on her stockings tops.
Annie stripped off her halter-top to reveal she was wearing a pink bra that matched the pantie thong under the layer of her sheer nylon hose. Then she slipped the straps of the bra over her shoulders and slowly peeled away the cups to uncover her all natural breasts, one of which was pierced.
Annie framed and uplifted her lovely boobs with her arms, as she stood in her stockinged feet and posed topless in her layers of sexy lingerie and nylon hosiery.