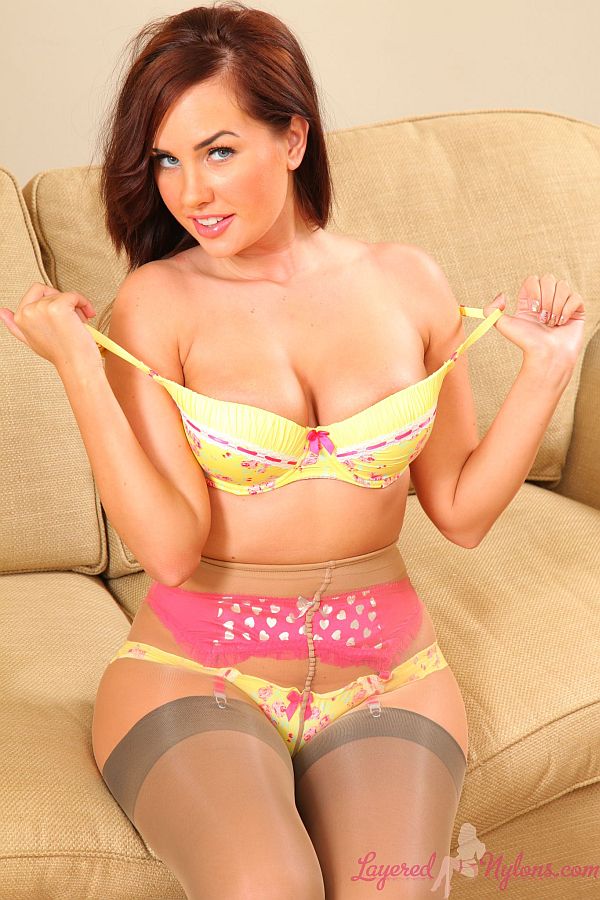 Ann's glorious red hair looked lustrous as she stood and posed in her white top, short and sexy red plaid skirt and shiny, tan nylons at the start of this photo shoot.
You wouldn't know until she lifted up her skirt, that she was wearing bright yellow panties and pink suspenders attached to her stockings, all under a layer of beige-tan sheer nylon pantyhose.
Stripping off the skirt revealed her pink suspender belt with its lace trim and pretty hearts pattern, and her skimpy yellow panties, all looking very sexy under her sheer nylon tights.
Ann lifted her white top to reveal she was wearing a matching yellow bra, which lifted and supporting her breasts so they were pushed together as she stood and posed in her lingerie.
Hooking her thumbs under the straps of the bra, she stretched them outwards and down, gradually peeling away the cups to give a teasing glimpse of her pink nipples, before stripping it away entirely.
Ann then reclined on the sofa and having slipped off her heels, she lay face down and crossed her ankles to display her feet in their layers of dusky nylon.