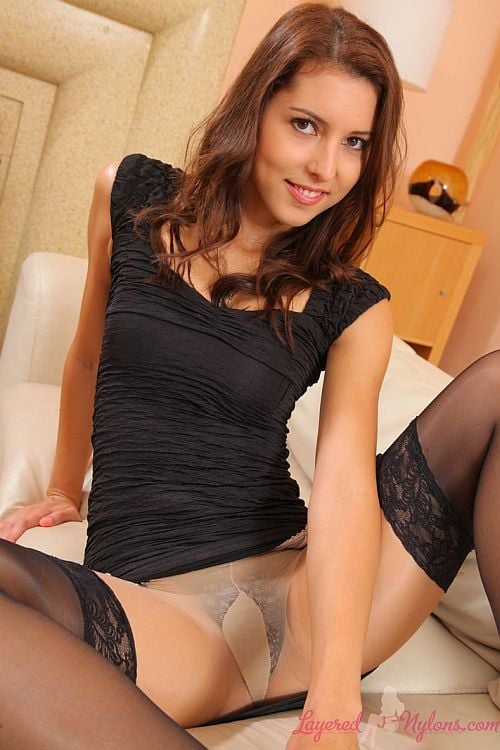 Sexy Brunette Ann looked incredibly sexy as she stood by the fireplace and slightly raised the hem of her black party dress to give us a view of her sexy satin suspenders affixed to her lace topped nylon stockings.
The dress was just high enough to reveal a tantalizing glimpse of the gusset of her beige-tan pantyhose, which she was wearing under her shiny black stockings which clung to the contours of her shapely legs.
Ann sat on the couch and pushed her hands through her long brunette hair, opening her legs so we could see up her dress at the slightly opaque being patch of the gusset almost obscuring the black panties she was wearing underneath her tights.
Kneeling on the floor she lifted up her dress to reveal the pretty black lace and satin beige suspender belt that encircled her hips and the lacy cups of the matching under-wired bra that held her breasts firmly in place.
Ann removed her dress and then stood for a rear view of her ass sheathed in it's tight layer of sheer nylon hose which enveloped her buttocks and the sexy suspenders which stretched down to the back of her nylon stockings.
Removing her bra she posed topless and pushed her hands down the front of her tights to the area of her crotch, then slipped her hands between the layers of her pantyhosed thighs and the tops of her stockings. Turning once more she pulled both her suspender belt and pantyhose down over her ass, revealing the naked flesh of her buttocks, then turned to face us for a fully nude frontal view.
See Ann teasing in her sexy layers of nylon stockings, suspenders and sheer nylon pantyhose in this 131image photo set at Layered-Nylons.