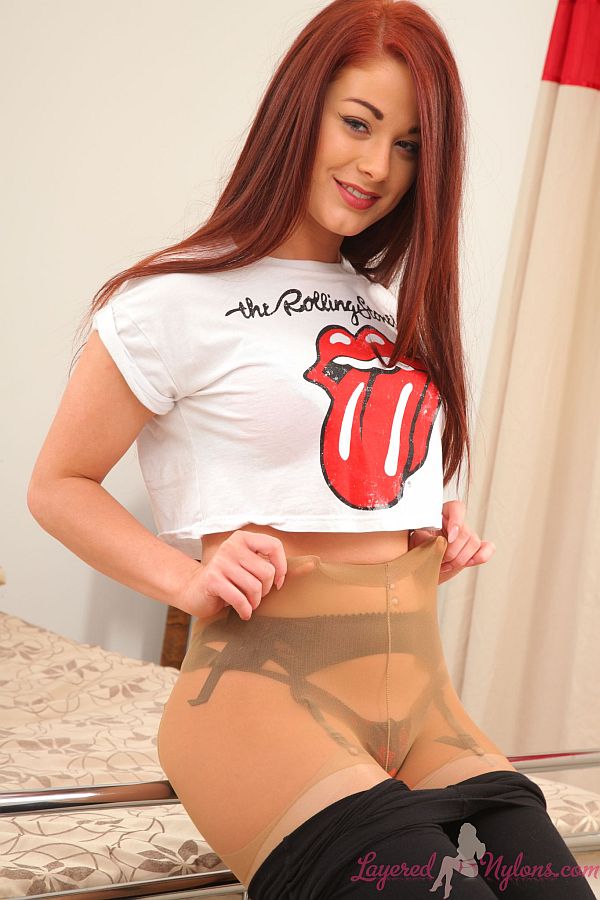 Amber Mae looked so hot as she posed with her long red hair falling over the shoulders of her short t-shirt, revealing her pierced belly button above the waist of her black leggings.
Laying on the bed she showed off the curve of her fabulous ass and shapely legs in those tight-fitting leggings. Then slipped off her red, open-toe heels and lifted her legs off the bed to give a close-up view of her feet in their layers on nylon hosiery.
Amber stood with her back to us and looked over her shoulder, smiling as she pulled down her leggings and revealed a black pantie thong, suspenders and tan stockings, all under the layer of her sheer nylon pantyhose.
Stripping off the leggings, she pushed her hand down the rear of her pantyhose and it moved under the stretchy layer of nylon as she caressed her thighs. She pulled her t-shirt over her head to reveal the red and black lace, low cut bra, uplifting her breasts and pushing her cleavage together.
Amber replaced her heels on her feet, then slipping the straps of her bra over her shoulders, she stripped away the cups to fully reveal her all natural breasts and rounded nipples. She reclined on the bed and posed topless, while pulling on the waist of her pantyhose so they were stretched tight around the crotch of her red and black lace panties.