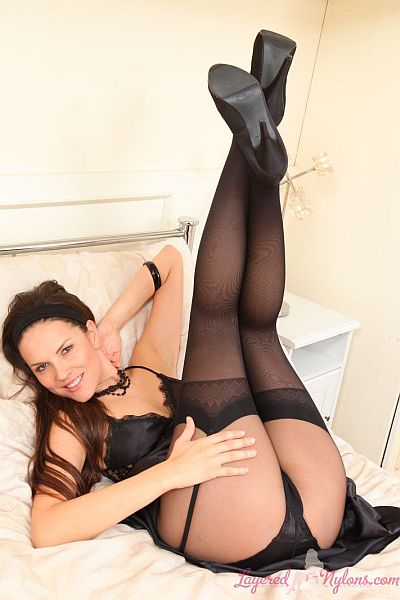 Zuzannah is a charming, long haired brunette with an amazing pair of long legs which look incredibly sexy in her layers of black pantyhose over stockings, as seen in this photo set at Layered-Nylons.
Zuzannah smiled as she posed with hand on hip in her silky satin black chemise, artfully displaying her slender legs in black gloss pantyhose, nylon stockings and heels.
'I love how tight my pantyhose feel layered over the tops these Levante 'Vanessa' stockings,' Zuzannah commented. Sitting crossed legged on the edge of the bed she leaned forward, and smoothed the luxurious layers of nylon between her hands, slowly drawing them upwards from ankle to the tops of her saucy nylon stockings.
Zuzannah lifted her arms above her head, slipping out of her chemise to bare her softly rounded breasts, then stretched out to display the full length of her sexy legs in their layers of shimmering nylon.
Then removing her shoes she stood on the mattress, teasing us with her beautiful pert ass cheeks in black satin panties, all nicely framed by her long black suspenders stretching down to the tops of her nylon stockings.
See this classic looking brunette babe teasing in her layers of black nylon pantyhose over stockings in this 136 image photo set at Layered-Nylons.