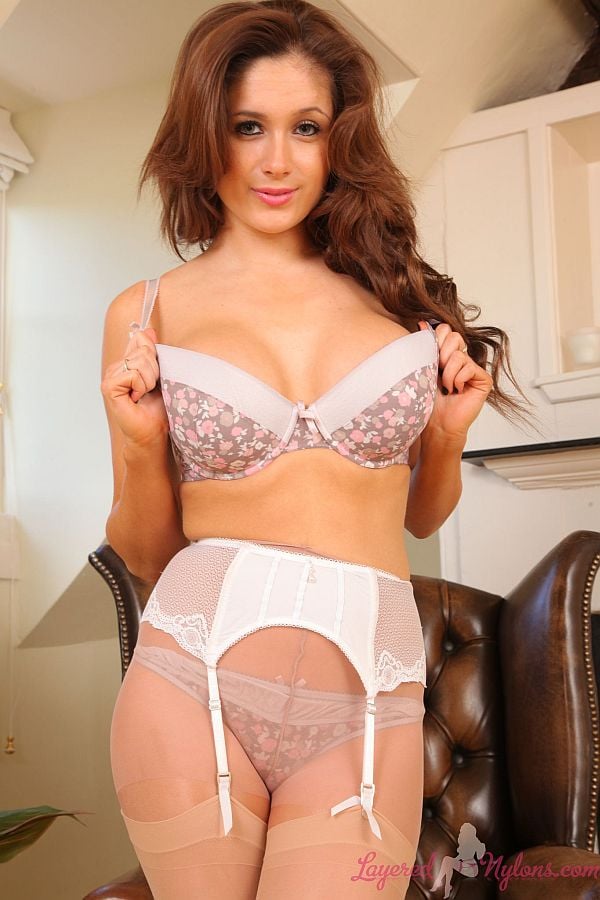 Pretty brunette Tiffany Rose smiled and lifted up her turquoise dress, revealing taut white suspenders and metal clasps, attached to the tops of her tan nylon stockings.
Kneeling on the floor she leaned over and pulled up the back of her dress, presenting us with a view of her fabulously rounded ass, encased in a clingy layer of beige-tan pantyhose.
Tiffany stood to unzip the back of her dress, letting it slip and fall down her body to reveal a lacy suspender belt and floral bra supporting her ample bust.  We noticed a matching pair of floral panties under the layer of her tights, all nicely framed by the webbing of her suspenders attached to her stocking tops.
Taking off her heels, she stood in her stockinged feet and hooked her thumbs under the straps of her bra, slipping them over her shoulders to strip the bra away and reveal her perfectly formed, all natural breasts.
Sitting in the chair, Tiffany folded her arms and pushed out her chest to display her fabulous boobs, as she posed topless in her layers of lingerie and nylon hosiery.