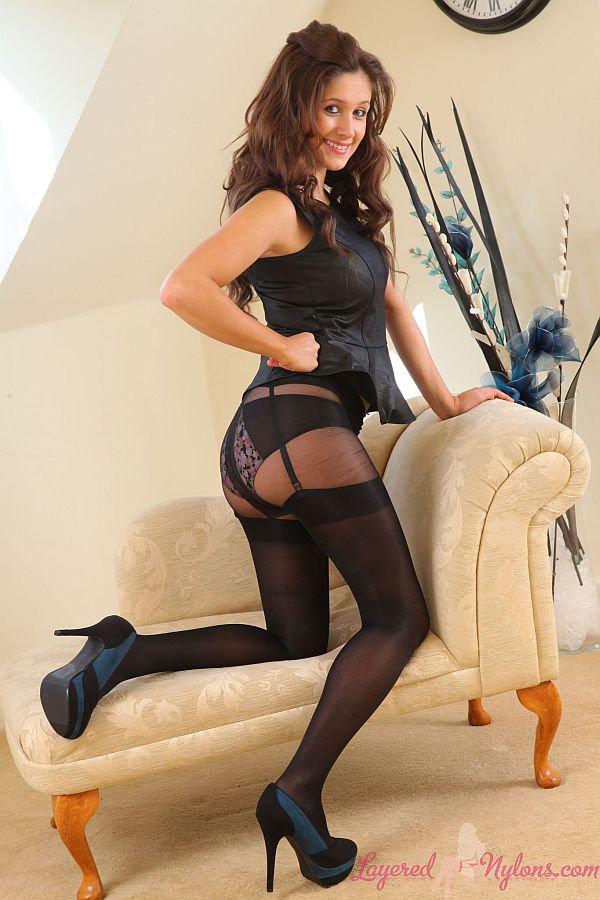 Tiffany Rose gave us one of her pretty smiles as she knelt on the couch and pulled up the back of her lace skirt. She held the skirt just so high as to give a tantalizing glimpse of her panties, black suspenders and stockings, under a layer of sheer nylon pantyhose.
Turning to look back over her shoulder, she pulled her skirt over her ass and revealed more of her black panties, clinging to the  cheeks of her bum.  Then she sat and lifted her legs, her black suspenders pulling on the tops of her black, nylon stockings, as she slipped the skirt over her heels.
Tiffany lifted her stretchy Lycra top to reveal she was wearing a black and floral patterned bra that matched her panties. She stripped off the top and laying on the couch, she stretched the waist of her pantyhose up her front, then pushed her hand deep inside her hose and caressed the flesh of her thighs above her stocking tops.
Tiffany pulled the strap of her bra over her shoulders and paused awhile, holding the cups so the hung loose around her breasts, before she finally stripped the bra away and posed topless in her layers of lingerie and nylon hosiery.