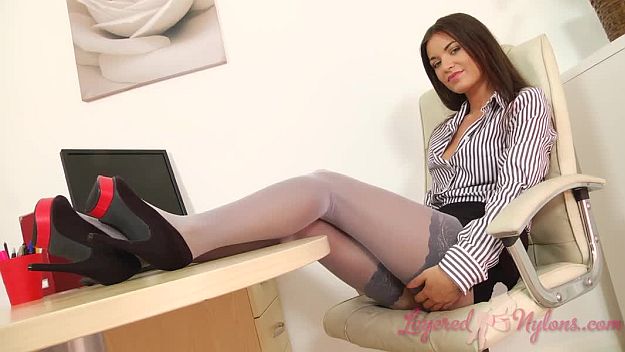 Brunette secretary Tianna posed by the desk and ran her hands over her hips in her short black skirt and caressed her breasts through the front of her striped shirt.
She sat in the chair and lifted her legs in their stiletto heels onto the desktop, her skirt pulled back to reveal the lace tops of her black stockings under the layer of her white, sheer nylon pantyhose. Her hands seductively caressed her legs, sweeping from her ankles up to her nylon clad thighs and the tops of her stockings.
Tianna stood, unzipped the skirt and let it fall swiftly down her legs to the floor around her heels. Stepping out of the skirt, she knelt in the chair and looked back over her shoulder as she ran her hands over her sexy ass, clad in red panties and the layer of her nylon tights.
Tianna stripped off her shirt and uncovered the red and black lace bra underneath, posing in her lingerie as she slid her hands down the front of her pantyhose. She released the clasp of the bra and stripped it away, her long brunette hair falling over her naked shoulders and down her chest as she exposed and fondled her lovely all natural breasts.