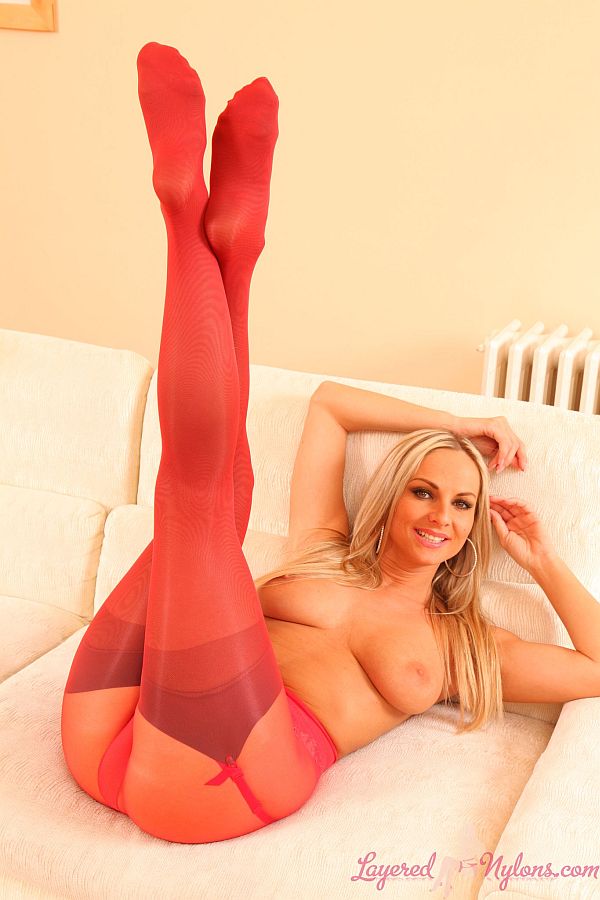 Tammy looked over her shoulder and her long blonde hair fell down her back as she slowly lifted up her short leather skirt, revealing black nylon stocking tops under the layer of her red, sheer nylon pantyhose.
Standing in her shiny, black heels, the taut muscles of her legs looked amazing sheathed in nylon, her skirt pulled so tight around the firm cheeks of her sexy ass.
Unzipping the side of the skirt, she slipped it down and revealed her shapely butt encased in it's layer of red, sheer nylon tights. She then turned to show she was sans panties under her pantyhose, the reinforced oval of her gusset stretching over her crotch tantalizingly hiding her nakedness.
Tammy pulled up her top and removed it to uncover her all natural breasts, then gently pushed the soft mounds together with her wrists to emphasize the shape of her cleavage.
Sitting on the sofa she slipped off her heels and lay back, lifting her legs straight up and crossing them at the ankles, she pointed her feet and toes inside their layer of nylon hosiery. Then she opened her legs to give a view of her red nylon gusset and her red suspenders straining on the tops of her stockings, under the layer of her sheer nylon tights.