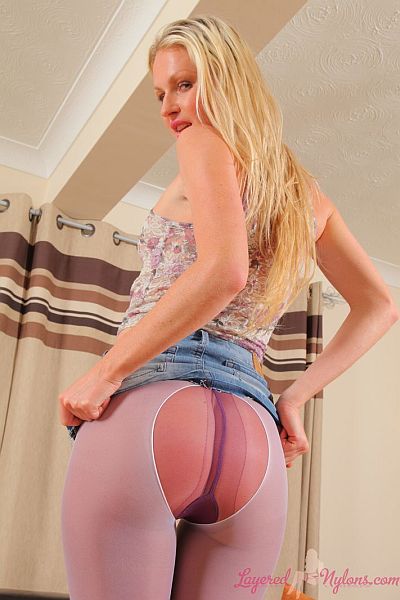 Sunny Barret shows off her fabulous legs and ass in a sexy double layer of nylon pantyhose in this photo set at Layered-Nylons.
Sunny had been out for a nice walk in the park during the recent fine weather. It was such a pleasant day she wore an appropriately tight fitting top, short denim skirt and a double layer of white pantyhose over some colourful sheer to waist plum tights.
Sunny smiled as she walked through the park, secretly knowing she was sans panties under her denim skirt, except for the layers of her pantyhose of course, one of which was a pair of open crotch tights.
The sensation of the fresh air circulating under her skirt, in and around the separate layers of her pantyhose that covered her hips, thighs and crotch, made her feel very sexy indeed.
When she got home she was feeling quite hot, so she stripped off her top and pulled her denim skirt over her peach shaped pantyhosed ass and posed half naked in the living room.
You'll see just how super sexy Sunny looks in her naughty layer of open crotch tights over sheer to waist pantyhose in her 131 image photo set at Layered-Nylons.