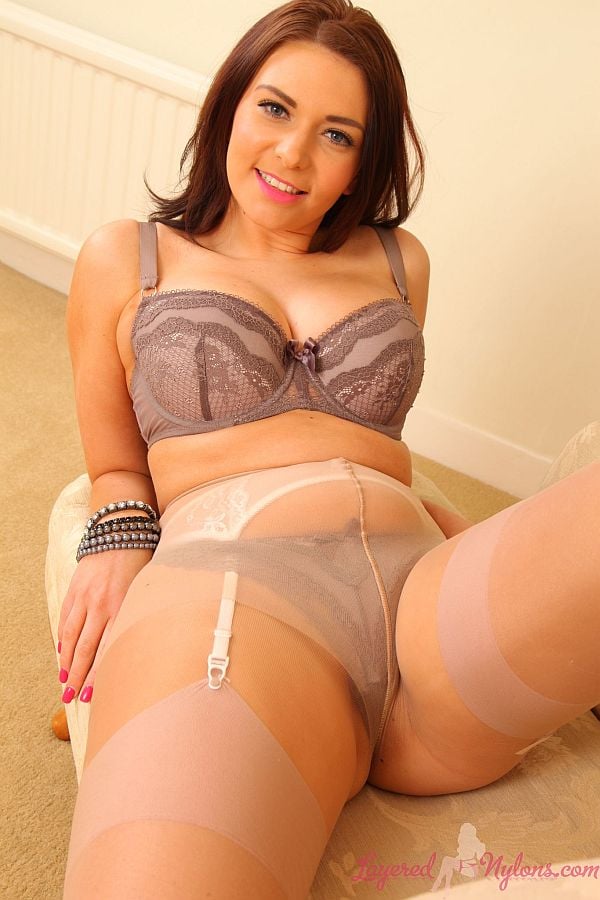 Stephanie sat on the arm of the recliner and crossed her legs so her dress pulled back slightly and revealed a tantalizing glimpse of beige-tan stocking top around the top of her thigh.
Standing, she lifted up her dress to show us she was wearing a pantie thong and very sexy white suspender belt around her curvaceous hips, all under a layer of beige, sheer nylon pantyhose.
Turning around, she gave us a view of her buttocks, sheathed in their layer of delicate hose, her taut suspenders stretching down the back of her thighs and pulling on the tops of her tan stockings.
Stephanie stripped off her dress and uncovered the delicately lace patterned bra she was wearing and removed her heels to give close up views of her feet encased in their soft beige-tan layers of nylon.
Slipping the straps of her bra over her shoulder, she pulled down the cups to reveal her all natural breasts and the pastel pink of her puffy nipples. She then stood up and posed topless in her lingerie and pulled on the waist of her sheer nylon pantyhose, stretching them up her belly so the were pulled tight around the crotch of her panties.