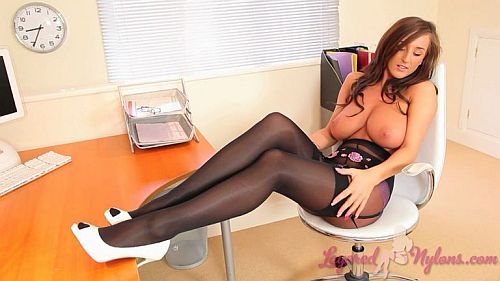 Secretary Stacy P teases in the office and strips down to her layer of black stockings and nylon pantyhose in this video at Layered-Nylons.
'Hi, I'm Stacy and I'll bet you'd like to know what's underneath my dress,' says our saucy secretary, who then lifts the hem to reveal the layers of stockings and suspenders over sheer to waist black pantyhose.
Stacy runs her hands up the length of her stockinged leg, causing the the double nylon layers to whisper as her fingers brush over the subtle contours of her shapely legs.
Lifting her dress higher, we see she is wearing a very pretty black suspender belt embroidered with pink flowers and naughty pink panties, all underneath her sheer black tights.
Stacy unbuttons the front of her gingham blouse and displays her voluptuous breasts, stroking and cupping them in her hands. Then standing half-naked she poses to maximum effect in her clingy layers of sexy black stockings, pantyhose and panties.
There's lots of lovely leg teasing, saucy smiles and naughty poses in this video of Stacy P in layers of nylon stockings and pantyhose at Layered-Nylons.