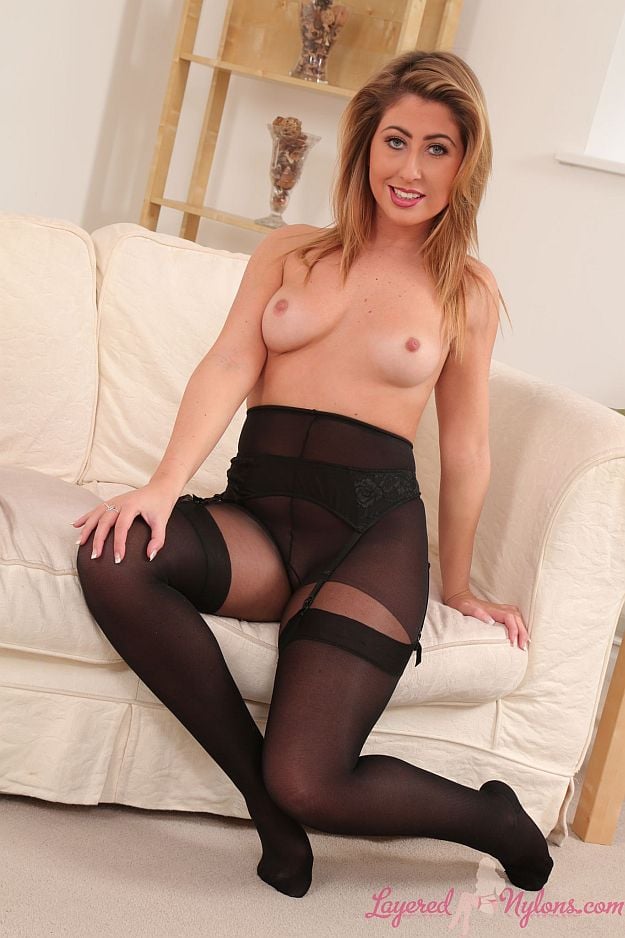 Sophie posed on the sofa wearing a red top that stretched over her shapely bust, and pulled up her skirt to reveal she was sans panties under the layer of her sheer nylon pantyhose.
Sophie wiggled as she pulled her skirt down over the cheeks of her ass encased in sheer nylon and bound by the black suspenders attached to her stockings. She slid her hand between the layers of nylon that covered her thigh and the movement caused the suspenders to strain on the tops of her black stockings.
Stripping the red top over her head revealed a black bra underneath and she stood posing in her lingerie with legs apart. She pulled the black suspender-belt around her waist, then ran her thumbs under the straps and pushed them outward so they tugged on her stocking tops.
Sophie reclined on the sofa, slipped off her stiletto heels and lifted her legs to show off her pretty feet and point her toes inside their layers of nylon hosiery.  She knelt and stripped off the bra to expose her petite all natural breasts, then pulled her pantyhose up her front so the gusset stretched around her naked crotch.