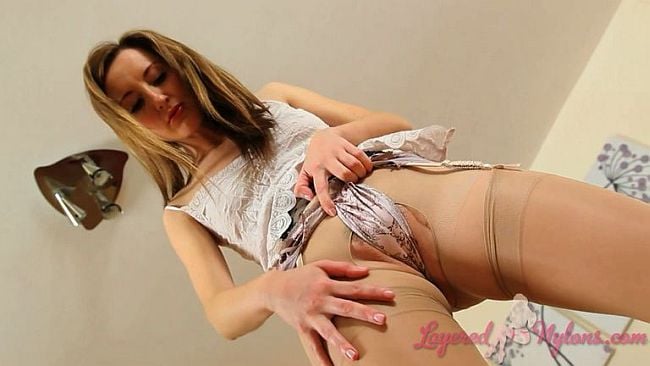 'Hi guys I'm Sophia Smith and this is my latest video for Layered-Nylons,' said our delectable redhead, as she posed by the bed in her lingerie and layers of nylon hosiery.
Wearing a camisole and a pair of flimsy knickers, plus tan stockings layered over her pantyhose, she turned to give us a view of her bum and playfully moved her fingers around her shiny, stocking tops.
Sophia brushed her fingers over the bumps of the suspender clasps, then slipping her thumb under the elastic of her satin suspenders, she plucked them outward so they pulled taut on tops of her tan nylons.
Sophia turned and gathering the material of her knickers at the front, she pulled them up tight around her groin and revealed she was actually wearing some sexy, open crotch pantyhose underneath. Then reclining on the bed, she opened her legs wide and showed more of the crotch of her knickers as they tantalizingly covered her genitals.
Sophia smiled as she slipped her hand down her stockings and gently moved her fingers over her thighs, caressing the layer of sensual nylon with her fingertips.
Stripping off her camisole, she stood to display her all natural breasts as she posed topless in her lingerie. Then pulling her knickers down around her thighs, she fully revealed the bush of her pubic hair, framed by the open crotch of her pantyhose.