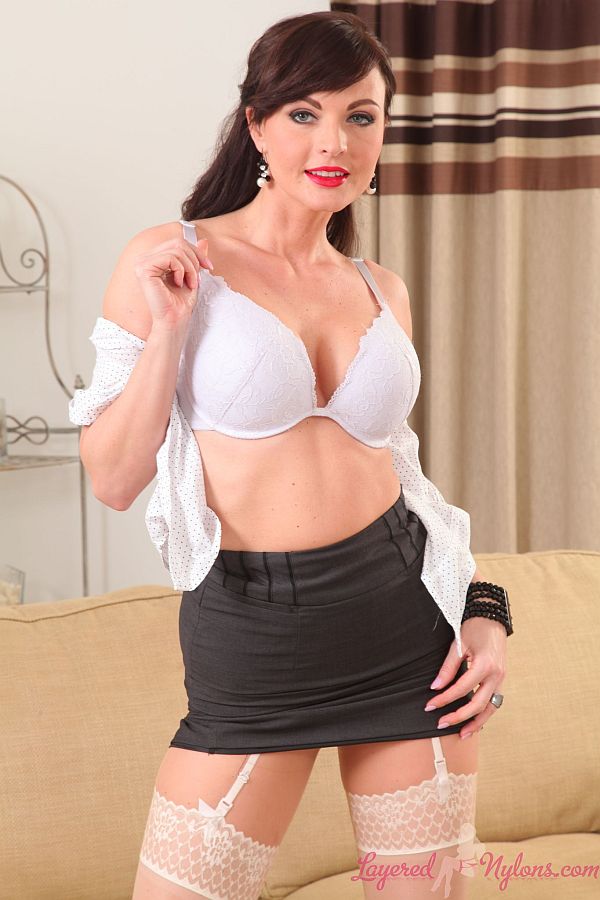 Secretary Sandra dressed in a tight fitting, grey suit that followed her curves, her long brunette hair and retro-style make-up, making her look so alluring.
Sandra posed sideways on to give us a prefect view of those fabulous curves and her bust thrusting out under the front of her blouse, you'd almost think the buttons were going to pop off at any moment.
Slipping off her jacket she reclined on the sofa, pulling back the hem of her skirt as she lifted up her long legs in their spiky heels. Her fingers caressed her thighs and brushed against the white suspenders attached to the lace tops of her white stockings, all of which she was wearing under a layer of almost invisible, nude nylon pantyhose.
Sandra stood to strip off her blouse and reveal her white bra, then unzipping her skirt, she let it slowly slide down her legs to reveal she was sans panties under the layer of her sheer nylon pantyhose. She stripped off her bra, then lay down on the sofa and opened her legs to give an uncensored view through the crotch of her sheer nylon pantyhose.
Sandra lay back and crossing her legs, she lifted them up to carefully ease off her heels and allow them to dangle from her toes, before removing them completely and posing topless in her lingerie and nylon hosiery.