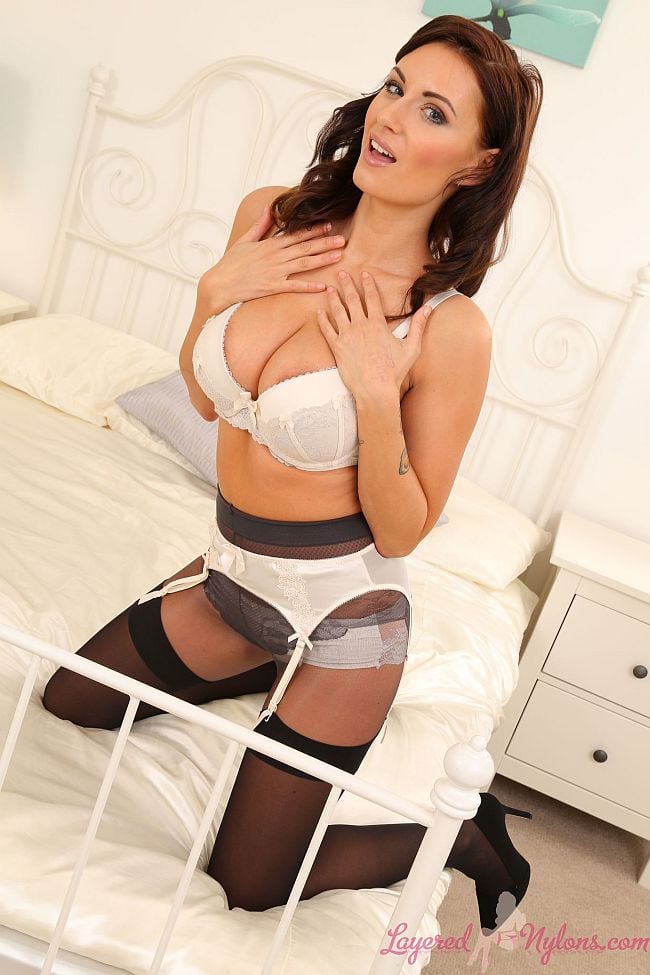 Sammy Braddy's bright yellow dress has something of a vintage look, perfect for lifting to give a flash of her cream colored suspender-belt attached to black stockings, over sheer nylon pantyhose and white lace, full back panties.
Sammy stands and pull down the top of her dress, revealing a lovely lace patterned bra that matches her suspender-belt, the cups fitting perfectly around her breasts and pushing together her cleavage. She lets the dress side over her buttocks, all nicely bounded by her cream lace suspender-belt, which contrasts nicely against her black sheer nylon pantyhose.
Sammy kneels on the bed and teases out of her bra, holding the loose cups in place over her chest before stripping the garment away to reveal her ample, all natural breasts. She then sits and slips off each of her heels and stands in her stockinged feet, and shows off her fabulous ass in lace panties under a layer of pantyhose, and her suspenders pulling taut of the tops of her black stockings.