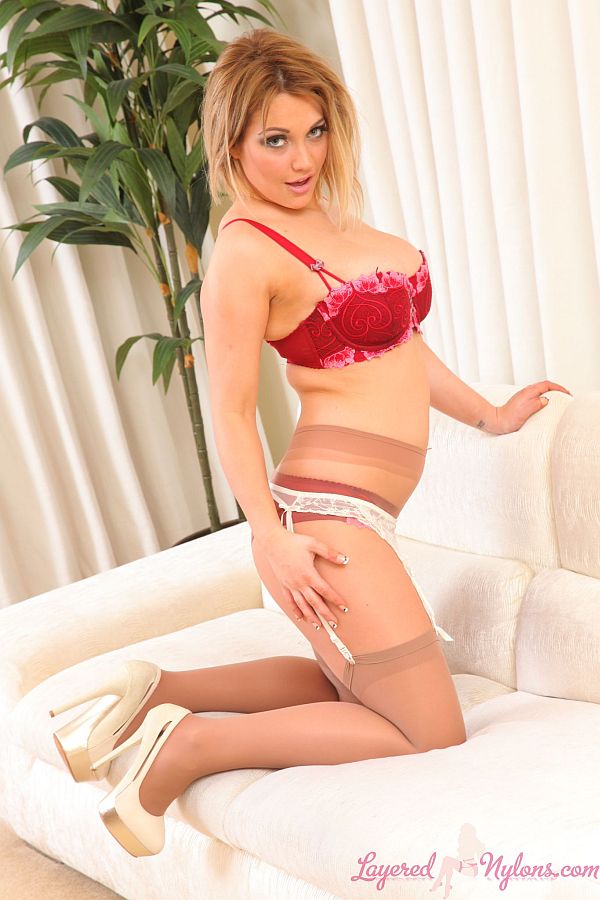 Busty blonde Sam B looked back over her shoulder as she stood and posed in her flirty dress, her shapely legs so attractive and alluring in their shiny nylon hosiery and cream coloured stiletto heels.
Turning to give us a rear view caused her short dress to momentarily uplift, giving us a tantalizing glimpse of her suspenders, attached to the tops of tan nylon stockings.
Laying down on the sofa, the dress fell around her waist and exposed the crotch of her pantyhose and the taut suspenders attached to the tops of her nylon stockings. A glimpse of red lacy panties, worn under the layer of her sheer nylon hose, appeared between the valley of her thighs as she shifted her legs on the sofa.
Getting up to stand, she lifted up her dress to remove it and reveal she was wearing a red, intricately patterned, low cut bra, supporting her sumptuous breasts and displaying a good amount of cleavage.
She hooked her thumbs under the straps of the bra and slipped them over her shoulders, then slowly stripped the cups away from her chest to release her pendulous all natural boobs.
Sam stood and posed topless in her lingerie, looking fabulous as she showed off her shapely legs in their layers of tan nylon stockings, pantyhose and sexy stiletto heels.